BOONIELAND KENNELS - Wisconsin Weimaraner Breeders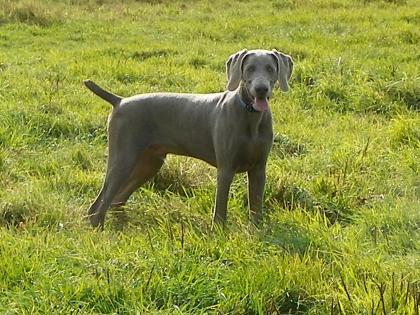 About BOONIELAND KENNELS
BOONIELAND KENNELS Is a small breeding kennel  in northern Wisconsin.  We have been raising AKC Weimaraners for over 17 years.  Our dogs have excellent hunting lines, good conformation, and  the drive to hunt.  We breed for the Longhair gene because the Longhair can handle the cold weather better than the Short hair variety.  Puppies are available occasionally and we do  offer the gray. silver/gray and blues in both the longhair and short coat.
Hunting Dog Breeds Raised
Weimaraner
Breeder Contact Info
Testimonials (3)
Submitted by: Kim Koziol on Jul 19, 2012
Our weimy from Boonieland turns 1 today! She also is a beautiful puppy. We get stopped all the time and the comments on her temperment and coat are wonderful to hear. She is a real joy to have and when we are ready for another dog we will go back to Boonieland.
Submitted by: SadieMae on Oct 06, 2010
I have a 4 month old female weimy from Boonieland Kennels. She is WONDERFUL! She's a show stopper wherever we go.
Submitted by: Jeanne Ohser on Aug 25, 2009
Our puppy is going on almost 9 months old. If we had the room we would purchase another. When we are ready for anther we will definitely come back!!
Submit your testimonial