Au Sable Vizslas - Wisconsin Vizsla Breeders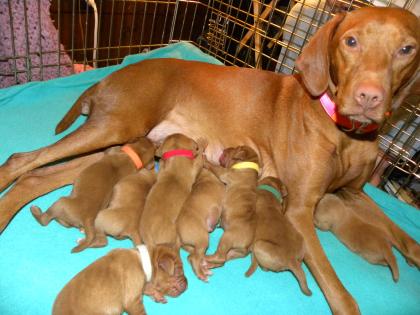 Hunting Dog Breeds Raised
Vizsla
Breeder Contact Info
Testimonials (3)
Submitted by: Sheri Armstrong on Jun 23, 2020
I cannot give enough praise to Jared and Laurie of Au Sable Vizslas!! We purchased Scout (formerly Bella) from Au Sable in December 2017 from their Spike x Rozee litter and she was and continues to be the most wonderful and well balanced Vizsla I have ever met. From the day we got her she crated perfectly, learned exceptionally quickly, has exceptional hunt drive and is incredibly cuddly. When we are ready for another we will be sure to be back.
Submitted by: James Randolph on Jan 10, 2020
We highly recommend Au Sable Vizslas. We got our Wesson in June of 2019. Being our first Vizsla we had a lot of questions and Jared the breeder was happy to answer them. He made sure we were a good fit for our dog. We have kept in contact with Jared giving him updates on Wessons' progress. He has been very responsive in all of our communications with him.
Submitted by: Jeff Paluska on Sep 10, 2019
Purchased a female puppy from Ausable Vizslas in December of 2017. (Spike x Rozee). Could not be happier. Ella has been a great addition to our family and points everything that moves. I recently started competing in CKC Hunt Tests (Canada) and she is doing great and has proven to be very trainable.
Submit your testimonial