Alma Bottom Pointing Labradors - Wisconsin Labrador Retriever Breeders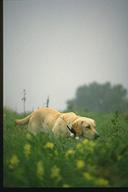 About Alma Bottom Pointing Labradors
The FIRST, LONGEST STANDING and LARGEST Pointing Lab breeder. Guaranteed Pointing. Great Hunters and Family Companions. Pups and Started Dogs. Breeding only. 500 References on request. Lifetime Health Warranty.
Hunting Dog Breeds Raised
Labrador Retriever
Additional Services
Stud Services
Breeder Contact Info
Testimonials (2)
Submitted by: Paul Straw on Nov 27, 2010
I picked Scooter up on one of the coldest days of the year, he rode beside me in the truck all the wayfrom Wisconson to Montana and never left my side for the next 6 months. We trained every chance we got. He always wanted to please me. By the time he turned 1 yr. He'd already pointed and retrived more pheasants then most dogs 5 times his age. Alma Bottom has the best dogs.
Submitted by: Todd Painton on Nov 10, 2007
Excellent dogs. SO AFFECTIONATE. Very loving dogs that go from mellow to maniacs when they hit the field. Hunts endlessly. Lives for the retrieve.. and yes, he points upland birds.
Submit your testimonial