Ciel d'York Kennels - West Virginia Epagneul Breton, French Brittany Spaniel Breeders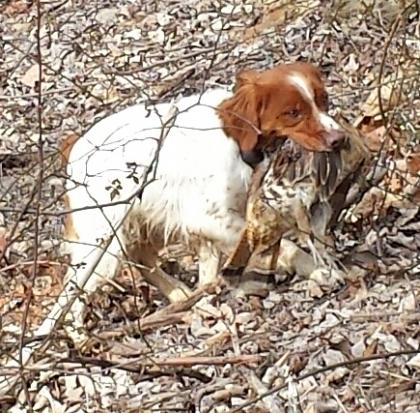 About Ciel d'York Kennels
We train and raise our EB, French Brittany bird dogs to hunt. These dogs are great pointing companions in the field and wonderful pets in the home. We chose this breed for several reasons. They are friendly, bright and happy dogs as well as smaller and compact in size. They have little to no health problems and live well into the teens if cared for properly.
Hunting Dog Breeds Raised
Epagneul Breton, French Brittany Spaniel
Additional Services
Stud Services
Breeder Contact Info
Testimonials (1)
Submitted by: James on Jun 02, 2018
I drove 13 hours and back again with two kids to go pick up a pup from them. That was good decision. We picked out our pup early and they sent pictures of her to us most every week. They told us that they had chosen the breeding based on hunting (of course) but also very much took into account temperament (I knew I would be getting a high energy breed but I also wanted a dog that had good focus). At the time of writing she is around 8 months old. She was very easy to potty train, doesn't go where she is not supposed to, even learned not to eat the cat's food, I can take her running without a leash and she heals the whole time. She is great with my kids and loves being with them (even if they are on the trampoline). She has excellent manners and is very responsive to her family. She is also extremely intelligent. The owners were are friendly and accommodating both before and after us getting our pup.
Submit your testimonial