Wind Mountain Kennels - Washington American Brittany Breeders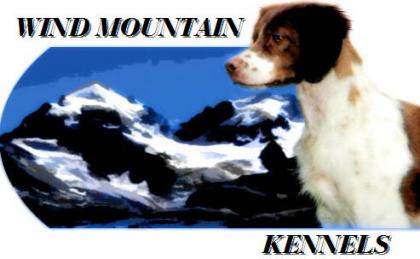 About Wind Mountain Kennels
American Field and Show Quality Brittany's. We focus our breeding program on the Dual Brittany concept. Focusing especially on health,temperment, structure, and hunting ability. We have been competing in the field and show arena's with our brittanys for the past 13 years and have many titled and nationaly ranked dogs to our credit. All of our pups are sold on contract with health and temperment quarantees, as well as a money back quarantee for the life of the dog. All breeding stock is screened for inherited health problems including hip/elbow dysplasia; eye diseases, heart and thyroid conditions.
Hunting Dog Breeds Raised
American Brittany
Additional Services
Stud Services, Birds for sale
Breeder Contact Info
Our Pedigrees
Testimonials (4)
Submitted by: Elizabeth Twine on Oct 06, 2011
Flute was purchased in 2004 - he is simply my companion. I have owned 5 Brittanys - all of them wonderful. Flute is beautiful, fun, trustworthy, alart all the time, admired by everyone, certainly not a pushover, a typical Brittany and if he was worked I believe he would be amazing - instead he has trained himself! The best part of our day is our walk; he hunts constantly. Thank you Connie - Flute is an absolute joy and so well bred.
Submitted by: Rebecca Hulstein on Jul 06, 2010
I purchased my female from Wind Mountain kennels in 2007. She is the most versatile dog I have owned. She has a great sense of birds and is a great addition with my children ages 9 and 2. She came back OFA good, excellent coat and structure. Thank you again Connie for breeding a great addition to our family.
Submitted by: pnmwill@yahoo.com on Jan 16, 2010
Our female puppie is the most stable pup we have ever had. Connie really knows what she is doing. She is sooo smart and confident. Thank you so much for the best dog we have had yet...and we have had all hunting breeds. I would buy another pup from Connie again. Hemi's Mom Miriam
Submitted by: Jeannie Maravilla on Nov 02, 2008
The most beautiful Brittanys I have ever seen. Our pup is healthy, playful, and smart. We are a hunting family, and we could not have asked for a better dog. The breeders are very professional, and take Brittany breeding very seriously. I would recommend Wind Mountain Kennels with 100% confidence.
Submit your testimonial