Skywatcher Chesapeakes - Washington Chesapeake Bay Retriever Breeders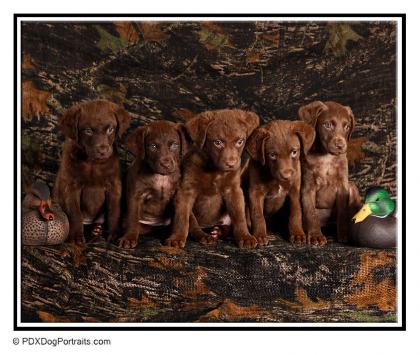 About Skywatcher Chesapeakes
NEW LITTER IS HERE!!!
BORN 1/13/16- 3 MALES, 7 FEMALES
All breeding stock have had health clearances, pups come with hip/eye guarantees. No pup will be affected by PRA, DM or EIC.
Thank you for your interest in Skywatcher Chesapeakes! Through our breeding, we endeavor to maintain the health and integrity of the Chesapeake Bay Retriever breed while also selectively breeding for great looks and the instinctual drive to hunt. The Chesapeake is a multi purpose dog and we strive to keep it that way!
Our dogs are all considered valuable members of our family and frequently accompnay us on our vacations, camping trips, hikes, etc. (Basically wherever we go, they go.) Our litters are AKC registered and puppies do come with hip and eye guarantees.
We are proud members of:
· The AKC (American Kennel Club)
· The ACC (American Chesapeake Club)
· The ECBRC (Evergreen Chesapeake Bay Retriever Club)
For more information, please visit www.chessies.net or contact Michelle at michelle@chessies.net or feel free to call 360-703-4634.
Hunting Dog Breeds Raised
Chesapeake Bay Retriever
Additional Services
Stud Services, Birds for sale
Breeder Contact Info
Testimonials (0)