SkyHigh Retrievers - Washington Labrador Retriever Breeders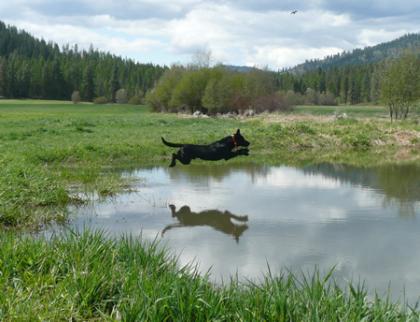 About SkyHigh Retrievers
Professional Retriever Training
& High-Quality Labrador & Golden Retriever Puppies
Labrador Puppies Due October 5th, 2012!
Mike and Tiffany Taylor produce dogs with style, enthusiasm, and the confidence to make difficult retrieves and hunt in thick cover. We do this by giving yousr dog one-on-one time, fair and consistent training, and adapting to your dog's unique personality. We combine fresh ideas with tried-and-true practices. Our retriever training programs are based on being flexible and adapting to the dog's training level, talent, and temperament. This helps create an enthusiastic and happy dog with a strong foundation of training.
We believe every bird dog, whether a competition retriever or an upland or waterfowl hunter, should be trained on birds through the bulk of their training. The best bird dogs are trained on birds, and lots of them. We provide custom training for each and every retriever, as well as specializing in hunting Golden retrievers and Pointing Labradors. We believe that with fair and consistent training, every retriever can reach their full potential. No matter what type of hunting you do, your dog should work with you, be confident, and eager to hunt.
We occasionally have high-quality litters of Labradors or Golden Retrievers, please see our current puppy classifieds or contact us for more information.
Visit our website and join us on Facebook for pictures, current competition results, and more!
Hunting Dog Breeds Raised
Labrador Retriever
Additional Services
Training
Breeder Contact Info
Testimonials (0)