SkyRiver Goldens
Quality Field Bred Golden Retrievers
Located in Central Washington
WINTER PUPPIES AVAILABLE!!!!  EMAIL US FOR AVAILABILITY.
STARTED DOGS NOW AVAILABLE - IN TIME FOR HUNTING SEASON!
SIRE: Wildfire Dash 'OTabasco MH**
We are a retriever training kennel dedicated to producing a small number of healthy field-bred Golden Retriever litters a year. We only breed Goldens that have strong retrieving drive, trainability, intelligence, good health, and good temperaments. Every dog we own or breed is one that we enjoy training, hunting, and competing.
Goldens do best in a family environment, and our dogs do have an off-switch, making them good family companions. Whether you want an upland hunter, a waterfowl hunter, or a Hunt Test dog, we can find you the right litter.
Please contact us or visit our website for more information about our quality Golden Retriever puppies, or for our gun dog retriever training programs.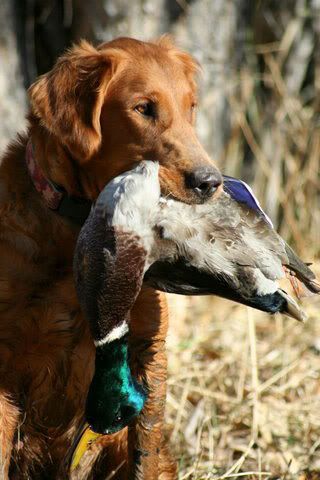 LIKE us on FACEBOOK at SkyRiver Goldens!!! 
Submitted by: J Orhn on Nov 11, 2014
I wanted to check in with you and let you know that I am SO happy with the puppy I got from you! Carmelo is a genius dog and just the softest, kindest dog I've ever had. We have had no common "puppy issues" with him at all! He is such a gentle lover and so spirited. I cannot say enough about how much my kids and I adore this dog and so happy he is part of our family. He has been hunting all fall with me and has been a natural! On his first hunt, he flushed and retrieved his first bird without hesitation. The bird counts are down this year but we had decent shooting nonetheless. I plan on doing a pheasant hunt with him to get him more reps. At home, he fits right in. He loves to retrieve anything and everything from his tennis ball, his dummies, or some socks from the laundry room haha. He is simply an amazing athlete with graceful speed, agility, and a crazy high vertical jump! One strange thing I have noticed is that he doesn't shed much at all which is a great bonus! I'll be sure to get you more photos of him. I just wanted to get back in touch with you and say thank you for picking me out a once in a lifetime dog. We sure love this guy.
Submitted by: K. Williams on Nov 07, 2014
Juno's birthday is the 11th------she's about 48 lb. and in great health.
I just took her out to mud lake on Sauvie yesterday for maybe her last hunt situation training. She's doing really good & ready to start slowly into her first season.
I set up a blind with a dog window & got her used to lookin & shootin out of there when I release her.
She's a strong swimmer, bird crazy, fearless in cover and very focused.
I'll send pics of her first duck, and PLEASE stay in business so I can get my next Golden from you.
Submitted by: S. Manowiecki on Nov 07, 2014
Well, our puppies are now 10 1/2 months old. Can't believe it.
Yes, he is a big boy. Very tall and long but still has his puppy coat.
Not to brag~~~~~BUT~~~~~~
He is the top student in his obedience class. His heeling is great his sits are about 95% straight and right next to Ken as they should be. His front feet are under him along with his chest while looking up at Ken. The instructor is very happy with his progress.
His field work, is coming along as well. Doing long marks and coming back the way he should be not taking his time. Doing his drills etc. His water entry!!!!!~~is becoming awesome. He takes off flying, as his name says, into the water. A little tentative when he was first introduced to water, until he realized he could swim. Now we can't keep him out.
The pros working with Ken and Flyer say that Flyer has the "Best Work Ethics" they have seen in a long while. Which makes us feel good and this should make you feel good as well.
His home manners are good as well as knowing when to kennel himself up for quiet time or sleep time. Also, he is quiet when we are at obedience shows.
Flyer and Ken are the best of buddies. When Flyer sees Ken or myself, he just cuddles up as best he can next to you.
Thanks again!
Submitted by: Jennifer T on Aug 17, 2012
I bought Loki (the green collared puppy) from you guys last January. I thought I'd send an update on how amazing he is.
Loki is soon to be 9 months old and is so full of personality and energy; I honestly think that he's a genius! He's a real goofball and loves to play fetch and to swim. I always take him everywhere with me and overall he is such a great companion. He loves everyone of all ages, including dogs as well. He recently just graduated with flying colors in his Adult Level 2 class and he has made me a very proud owner! He is also an amazing couch potato when needed and loves cuddling up next to me. He has recently gotten neutered and has had a very speedy recovery. Overall, I am completely in love with my SkyRiver Golden and cannot wait for more adventures with him to come!
Submitted by: M. Stewart on Jun 22, 2012
Ginger is doing very well! She adapted to our home within hours of her arrival and is a exceptionally confident dog. She understands "sit", "no" and" leave it", very well. She is still working on "come" and "stay". We are just keeping all training positive and fun at this point. We were thinking of bringing her over around the first week of May for some more serious puppy training. We'll be in touch! THANKS
Submitted by: I. Cooper on Jun 21, 2012
Thanks a million; we are eternally grateful for such a high caliber companion!!
Submitted by: Cathy P on Jun 21, 2012
Riley is a joy! She is so sweet, willing to please and smart! Loves her daily walk, runs besides my bike and along the beach when I kayak. She enjoys running through the tall grasses to flush out birds! I hoped to get her started in agility, but I had back surgery in february and changed jobs. I have my last Physical Therapy today, getting settled into my new job. Then, I hope to start Riley in agility classes in the fall with Paws-Abilities in Fife, WA - indoor. I have a funny video clip of her chasing a couple of barn swallows that fly low to the ground. As soon as I figure how to get the clip off my phone and on the computer, I'll send it to you.
Submitted by: Mark W on Jun 21, 2012
Ali is an absolutely gorgeous dog and is crazy about people. She sleeps on a queen bed at night with an open window and sill so she can keep track of the goings-on outside.
Submitted by: S. Brunn on Jun 07, 2012
Hello Tiffany and Choral,
Bliss is awesome. Being a busy mother and career woman, I've never found time to enjoy the wonders of hunting. My children's independence into adulthood and Bliss' arrival has changed all that. Bliss and I are taking a Beginner Retriever Class and I am learning how to enjoy this fun sport (I know she has already passed her Jr. Hunt test but she is teaching me what she knows under the direction of the trainer, Bill Quinn). You did a great job with her and she is smart, talented and patient. She has a great disposition and Jake (Larry's GSP) and she get along great.
I'm running with her after work and do obedience almost daily. Thank you so much for her; she is such a joy!
Thanks for all your hard work
Submitted by: Carol C on Jun 07, 2012
You should be proud of your breeding program............I took Rina to a training outfit in Stevi so that we can work on birds every week etc,. They really really liked her, and I must say, she was just doing what she does. She scored above average on her her initial evaluations, so I was pretty pleased with what we've done so far, and with her skills. She had alot of fun, we'll go back on Tuesday and start more things, but I hope it works out. Its fun to be able to brag about your dog a little bit. Keep up the good work.
Carol
More Reviews for SkyRiver Retrievers: Field Bred Goldens & Labs
Submit your testimonial