Roe's Shorthairs - Washington German Shorthaired Pointer Breeders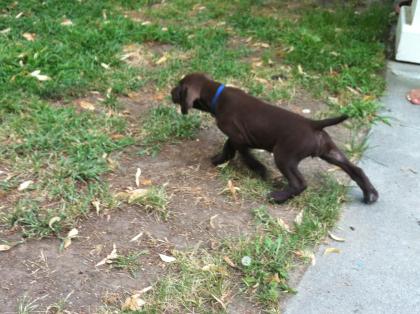 About Roe's Shorthairs
Roe's Shorthairs breeds German Shorthairs with some of the best bloodlines in the world. These dogs have NFC pedigrees combined with the classic field hunting dog. All breeders are loved family pets and have calm, well balanced demeanor.
This breeding combines Champion AKC with Champion CKC and superior bloodlines from around the world; it includes European greats along with American Hall of Fame dogs. These puppies will exhibit a powerful, natural desire to point, a love of water, a strong, solid need to retrieve and trainability second to none. These pedigrees are some of the best in the world. Dame's (Roe's Heidi V Greif) mother is an Idaho State Chucker Champion, Heidi's sire (Bird Jump Gunnear V Greif) also has an NFC pedigree and is a product of the celebrated Von Grief lineage. Heidi holds an amazing point, is an extremely driven hunter with a natural desire to please. She is loved family pet who has slept with the children from day one. Heidi is an outstanding tracker with a protective streak that runs deep. The litter's sire (SMK Fuller's Ground Radar) is a solid liver male, approximately 80lbs and 24inches to the shoulder. He is a stout German Shorthair with lots of energy and determination. Radar's grand-sire is a product of double breading between, Two-time NFC "Raw Hide Clown" and three-time NSTRA Champion "General Norman." Both of these dogs have AKC registered DNA and are members of the National German Shorthair Hall of Fame. Radar is easy to read when he is birdy and has a rock solid point. He too is a great family dog who will pick up scent missed by other dogs. Radar's mom's dad was imported from Germany (A German National Champion at 13months) and his mother is a Canadian NFC.
These puppies were whelped on May 26, 2013. Start training your new pup the first of August. Taking deposits now ($75); with individual puppy pictures to follow soon. Puppies will be sold, tails docked, dew claws removed, current vaccinations, veterinarian examination and with a health guarantee. Females $600, Males $500.
Contact Breeder: Bill Roe, Phone: (509) 619-6143; Email: bill.roe04@yahoo.com
Hunting Dog Breeds Raised
German Shorthaired Pointer
Breeder Contact Info
Testimonials (0)