Mountain Star Kennels - Washington Irish Red and White Setter Breeders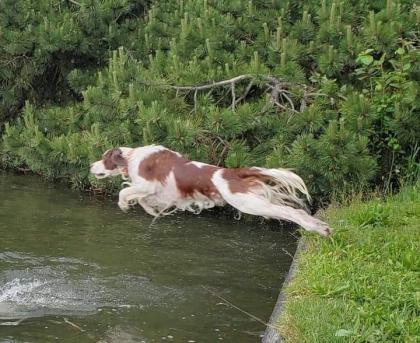 About Mountain Star Kennels
We are a small hobby kennel.� We focus on raising sound dogs that can perform in the field, in the show ring and as family pets and companions.� We have had AKC Grand Champions, Junior Hunters, dogs with CD's and Rally Advanced Titles in our kennel as well as dogs that are certified service dogs.� Pups that we have whelped in the past have served as search and rescue dogs, hunting companions, therapy dogs and agility dogs.� Our motto is "doing it all and looking good while doing it."� We have had Labs for more than�30 years and Irish Red and and White Setters for the last 15 years. We offer the following services: Stud service in Labs and Irish Red and White Setters. Occasional litters in both breeds. Occasional older or started dogs, Assistance with obedience, hunt and service training (we had a Lab (Thunder)�trained to alert for low blood sugars who had passed public access test and was certified as a service dog.� We will not train your dog for you but we will assist you in your training. pictures IRWS Litter born November 2, 2020. Ten happy pups. This litter has grandparents that are excellent hunters as well as show Champions. The sire hunts and has a championships. Both boys and girls remaining.
Hunting Dog Breeds Raised
Irish Red and White Setter
Additional Services
Training, Stud Services
Breeder Contact Info
Testimonials (4)
Submitted by: Sandy on May 12, 2014
I have visited Mountain Star Kennels 3 times, twice when I was evaluating them for purchase of my IRWS puppy and once subsequently when I picked her up. Barb and Harvey take excellent care of the dogs. They know and love their dogs, the dogs have hunting and show adventures as well as plenty of yard and lap time. As others have said, they do all of the appropriate tests to ensure strong litters. My 2 year old IRWS is a real joy. She is a total love muffin but also ferocious in the field and has been my introduction to conformation tests which she has mastered far better than I have.
As it relates to hunting, we're working on a Senior title and can hunt her easily. The challenge to be aware of, if unfamiliar with IRWS is their subtle pointing (setting) stance, which is initially a bit harder to identify than the flashy pointer/shorthair/Brittany or even English setter point. But, the bird drive and trainability is definitely there!
Submitted by: Diane Bartholomew on Jan 15, 2014
I am a small hobby breeder of AKC Yellow Labs, at familyyellowlabs.com, and have used the Lab stud dogs at Mountain Star Kennels since 2011. I give them the highest rating for quality of dogs and quality of service to me as a breeder. Harvey & Barb have focused on good, clean bloodlines for years and have every genetic test & certification possible. They work carefully with their great Veterinarian, and make sure your bitch is happy and well covered. It is true they love dogs and it shows. The pups we produce are often sold before they are conceived and so far EVERY pup buyer says he/she is the best dog they ever had. 100% satisfaction all the way around!
Submitted by: Tom Spear on Feb 14, 2011
I have owned Labs all my life but my recent Male that I have had for over 9 Years now is the best...his temperament is amazing and he is the least gun shy dog I have ever owned. Will go back to Mtn Star again for next male lab.
Tom Spear
Submitted by: Gary Wells on Jan 30, 2011
I bought a Yellow Male Lab in December 2000. I went for a female, but once I saw this little yellow back in the corner, that was it. I spent about an hour with him. Harvey and Barb talked with at length, answering all my questions. My main question was when could I have my new puppy. Ryelee, (yes he already had a name) was my Christmas Present. I picked up on New Years Eve. Ryelee is my buddy, he is an awesome dog, it was easy to see the love they that Harvey n Barb have for all their dogs and the puppies they sell. If I were to ever want another Lab down there road, there would be no questions as to where I would go.
Submit your testimonial