Lacey Mountain Brittanys - Washington American Brittany Breeders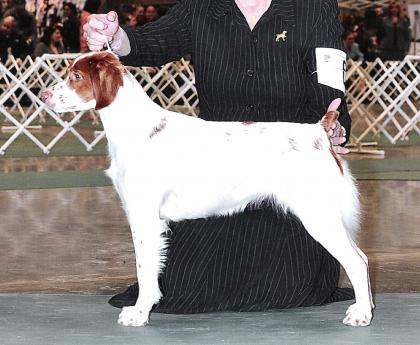 About Lacey Mountain Brittanys
Litter out of Leslie & Colt planned to be born around August 10th.
Lacey Mountian Brittanys is a small kennel dedicated to the commitment of breeding the highest quality of Brittany's. Lacey Mtn's Frosty Freckled Ruffian "Leslie" is CH Barb's Miss Lacey Girl's daughter. Their bloodlines come from: FC/AFC Hi-Scor Jac D Ruffian, FC/AFC Rimarada's Trademark, NFC/DC/NGDC/AFC Winchester of Hanging Jaze. The sire is CH Mustang's Sterling Edition JH. His bloodlines come from CH Sandbar's Call When Redi, DC AFC Masked Shoshone War Chief. The combination of these bloodlines will produce excellent dual dogs.
Hunting Dog Breeds Raised
American Brittany
Additional Services
Stud Services
Breeder Contact Info
Our Pedigrees
Testimonials (2)
Submitted by: Holly Hatter on Jan 25, 2012
This last summer we adopted a beautiful O/W female Brittany from Lacey Mountain Brittanys. And we had the best experience finding ourselves such a well behaved, smart, and beautiful puppy. She does so well with her litters that it is so easy to puppy train. Her puppies are already used to the crate, so crate training was not a problem at all, and when her puppies are able to go outside they use the doggie door and go in and out to use the potty. It only took our Mya two weeks after being home to get the whole potty training down. I truly believe that if we didn't have Barbara raise the puppies as she does, it would have been a lot harder. I am so satisfied with my whole experience with Barbara as a breeder that if we decide to get a Brittany again I am definitely only going through Barbara at Lacey Mountain Brittany's. Thank you so much for much an amazing dog and a wonderful experience.
Submitted by: tracey glaub on Jul 27, 2011
Last summer my husband and I decided to add another brittany to our family. We already had two rescue brittanys and this time we choose to adopt from a breeder. I researched and met with several breeders. I contacted Barbara via email and she responded to us immediately. She was very open to adopting to us even though we do not officially hunt our brittanys. We just love the breed and they fit well with our active lifestyle. We decided on a puppy based on her description of the personalities of the puppies. We live in Phoenix so we decided to fly to washington to bring him back.Barbara was very helpful in making sure he was ready to travel and I even shipped my crate to her. I flew into seattle and drove to Rockport where I met my little boy Cooper. He was and is the cutest little boy ever. He was so well behaved in the car and at the airport. Barbara had made sure he has his health certification and shot records to make flying with him a breeze. He was four months old when I picked him up and he was crate trained and basically housebroken. he was so easy to travel with. We flew back home the next day and he fit immediately into our family. He is very smart, social, healthy and adorable. I can not imagine life without him. I will adopt again from Barbara.
Submit your testimonial