Jager Traumen Kennels - Washington German Shorthaired Pointer Breeders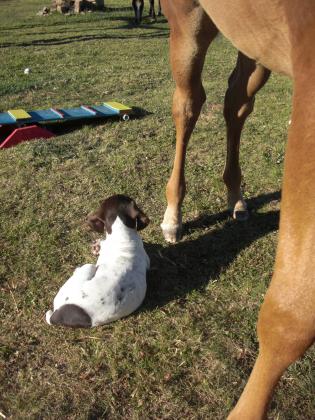 About Jager Traumen Kennels
Jager Traumen Kennels is a very small operation, only offering 1 litter per year or less. Each litter is meticulously engineered for health, intelligence, hunting drive, multi-disciplined capabilities, conformation and partnership/companionship, building on the original engineered diversity of the breed. Pups are imprinted from birth for "people pack rules", initial obedience, multi-discipline exposure, and ease of handling. I take my breeding program and raising of my litters very seriously. I invite you to watch the videos on my website "Raising a litter" and the difference is obvious. GSPs are so much more than hunting dogs and my pups are given the start to go any and multiple directions.
Hunting Dog Breeds Raised
German Shorthaired Pointer
Additional Services
Stud Services
Breeder Contact Info
Testimonials (3)
Submitted by: Brian on Jun 26, 2014
I have been working with Becky for many years now. Her connection with and dedication to her animals is amazing. I have never seen puppies started like she does. From the very start, they received individual nightly massages and lean into her hands with moans and groans of pleasure. These pups have so much trust in people, they allow her to do anything with them and prefer her attention over the dam. They are attentive to requests and sit (as a group) patiently waiting for their turn for whatever she does with them. Every day she stirs up the pot with new activities, of which they quickly master with few exceptions. They are confident, attentive, and disciplined, even in a puppy "mob". My hat goes off for her achievements with such incredible results with an incredible litter. They are amazing! Her "nursery" setup is also amazing. The puppies have constant stimulation with her miniature agility courses. I would highly recommend her kennel and puppies to anyone looking for a well rounded puppy. Truly Amazing!
Submitted by: Amy Johnson on Jun 26, 2014
I am getting one of these pups next week. I have been watching them since they were born and I can say that this breeder had put an enormous amount of care and effort into making sure that these pups are socialized to humans and other dogs and that they are trained to beginning commands. They have been given a wonderful play area that includes a mini agility set and they all look happy, healthy, inquisitive, and well-adjusted.
I am happy with the pup I'm getting but I think 7 would have been happy with any of them. From mu perspective, the breeder has done a great job in making sure that people are getting a pup that has the right temperament for their situation. I highly recommend this kennel!
Submitted by: Mary Rashford on Mar 07, 2014
I have multiple disabilities, and have always used German Shorthair Pointer bitches as my Service Dogs. The bitches have the instinct to care for puppies, and see people with disabilities as needing care, as puppies do. This works to the inborn strength and sex of the canine. Retrieving items that are dropped is a vital essential. Their intelligence, and desire to learn and please, makes the GSP bitch an excellent Service Dog.
Submit your testimonial