Gamble's Best Up-land Bird Dogs - Washington English Setter Breeders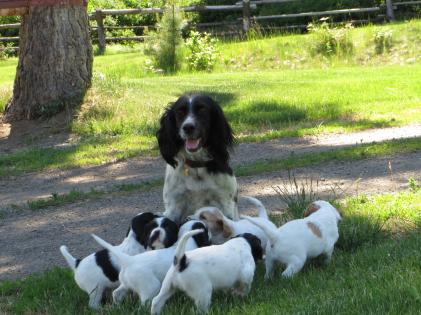 About Gamble's Best Up-land Bird Dogs
See Puppies for sale. We are family operated to produce the "best bird dog" and family pet that you would ever dream of owning. We have about 1 litter every 3 years, due to the overwhelming demand for our dogs from friends that hunt with us and our own needs. The pups are very well socialized, handled, loved, and exposed to pointing bird wings. They are natural bird hunters and need very little training, as they aim to please their owners.
We had 10 pups, born on 4/30/13, and have 4 left, 2 males (1 white & black, 1 white & red) and 2 females ( 1 tri-colored, 1 white & black). The sire is Upland Dogs NY Jasper, AKC registered and the dam is Tana's Dashing Raw Talent, FDSB registered. The litter is registered with the FDSB registry and the pups are $700.00 each. The dam is 1/4 Llewellin Setter.
Please e-mail for more info, pictures, and pedigrees. The pups have been wormed, vacinated, dew claws removed and many toe nail clippings. They are allowed to free roam for most of the day and will come to you when called. They are also in the process of beening kennel trained. Don't miss out on owning your "best bird dog that ever lived" and a great family pet!
Hunting Dog Breeds Raised
English Setter
Breeder Contact Info
Testimonials (0)