Foxglove Kennel - Washington German Shorthaired Pointer Breeders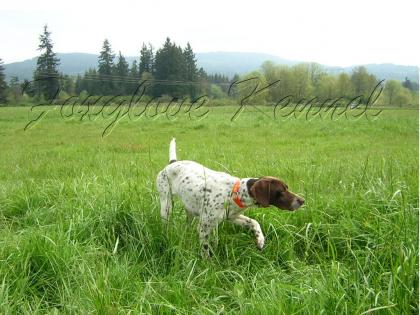 About Foxglove Kennel
Hunting, Field Trialing, Showing, and Breeding German Shorthaired Pointers for 30 years. Consistently producing top hunting, field, and show dogs.    Here at Foxglove Kennel our German Shorthaired Pointers are raised as part of the family. They are introduced to birds at an early age and their education never stops. We prefer homes that hunt but an active and happy home is most important. These dogs have wonderful temperaments and make both good house dogs and hunting companions. We encourage people to be picky when it comes to choosing their dog.  Don't just look for titles on somebody else's dog 3-4 generations back in a pedigree.  Make sure the parents of your pup have solid and proven credentials of their own.  Litters are usually pre-sold so getting on our list for puppies is necessary.  Contact us for upcoming litter information. 360-833-1558
Hunting Dog Breeds Raised
German Shorthaired Pointer
Additional Services
Stud Services
Breeder Contact Info
Testimonials (2)
Submitted by: Becky Metcalfe on Jul 10, 2014
Coffee and George produced 9 healthy puppies in May 2014. These puppies are incredible with a higher than normal intelligence with everyone of them as "birdie" and as obedient as they come. Coffee and George are a winning combination and will be repeated next year. Again, thanks Brian and Karen for this opportunity. I couldn't have asked for a better litter.
Submitted by: Becky Metcalfe on Mar 25, 2014
My GSP female was just bred a few weeks ago to "George", one of Karen & Brians highly titled GSP stud dogs. I have to say that these are some of the nicest people I have met in a very long time. They know their business, and do it well. I am hooked on the bloodlines they offer and their continued devotion to breed improvement and promotion. Thank you Karen & Brian. Looking forward to my pups in May 2014!
Submit your testimonial