Burgundy Lane Kennel & Game Birds - Washington Irish Setter Breeders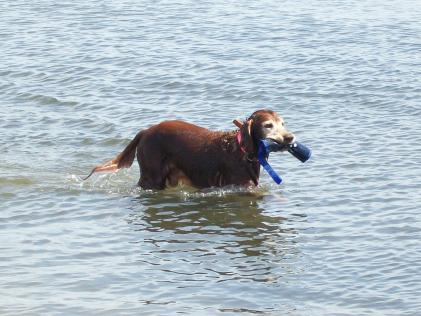 About Burgundy Lane Kennel & Game Birds
The foundation Dam for our line is Saturday's Sassy Sadie whose male line was direct from Abra and her pedigree formula was 50% Saturday Night Eddie J. We have added Bearcat and Comeback Fire boy bloodlines into our Pedigrees. Our dogs can be superior field trial competitors while at the same time good home family dogs.
Hunting Dog Breeds Raised
Irish Setter
Breeder Contact Info
Testimonials (1)
Submitted by: dave smith on Jul 29, 2012
Reilly has turned out to be a fantastic dog. His conformation and physical abilities are absolutely incredible. Ironically, he ended up being a very big runner that would probably have been perfect for the field trial circuit you were pondering. Unfortunately, my work schedule and lack of knowledge have kept me from training him to his potential as a field dog. He has served mainly as a family companion and lives in our home along with our aging golden, Chelsea. I've included a couple of pictures. Unfortunately, we don't have that many of Reilly in the field because he turned out to be quite camera shy. The minute he sees the camera he runs over and hides behind next to the cameraman's legs. I haven't a clue how that habit developed, but I'm having a hard time getting him to hold still for a photo if he sees the camera.
As far as temperament, Reilly is a sweetheart. He plays well with other dogs and children and only shows a mild grumpy streak if he is bumped while sleeping. Once he wakes up, he quickly rolls over and stretches his legs up so you can rub his chest. Like most well-bred setters, he is high strung and very energetic around the house. he wants to play and run! The front yard has a track worn into it about 6 inches deep where Reilly charges around the perimeter doing battle with the evil forces that lurk on the other side of the fence. Meter Man and UPS Guy seem to be his greatest foes, with Trash Collector Guys coming in a close runner-up because they actually show up once a week and take our stuff. The corners of the yard have mounds of dirt pushed up against the fence about a foot high where Reilly skids to a stop at the end of his run and reverses direction. Everyone that visits the house says, "Man, he's beautiful...I've never seen anything that runs like that!"
Submit your testimonial