Blue Skies Chesapeakes - Washington Chesapeake Bay Retriever, Labrador Retriever Breeders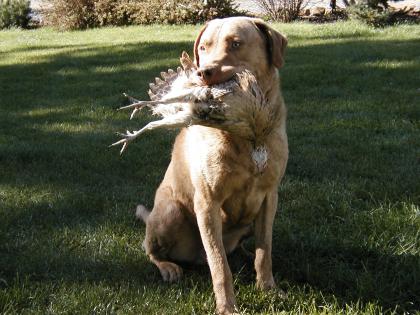 About Blue Skies Chesapeakes
We strive to make your decision to own a Chesapeake Bay Retriever to be a truly GREAT experience. One that you will never regret and will sell you on the ownership of a truly Great dog.
Hunting Dog Breeds Raised
Chesapeake Bay Retriever, Labrador Retriever
Additional Services
Training
Breeder Contact Info
Testimonials (3)
Submitted by: Brock on May 21, 2014
My family and I went out to see the available pups a week ago. We spent more than four hours out with the pups, watching them run with the adult dogs. Learned a ton and I am very exited to pick up my new pup tomorrow!
Submitted by: Dee Brandt on Mar 04, 2014
I have recently been in training with Clayton with my stud dog Cocoa. He is source of amazing knowledge of how to successfully train and compete in hunt tests. I would definitely recommend Clayton as a source to train and work with any hunting dog. He is concerned with the mind and athleticism of the Chesapeake and acknowledges that there is differences in disposition of all Chesapeakes as some maybe soft and some could be hard with the in-between the in between temperaments. Clayton has experience and passion to train. Plus, the passion to succeed. Thank you Clayton.
Submitted by: Cheri Glankler on Nov 12, 2011
Recently our 14 year old Chesapeake passed away. In seeking a qualtiy breeder that was concerned about the health and temperment of Chesapeake's I had the pleasure of speaking with Clayton and his wife. It was through our conversation that his first concern for his labs and chesapeakes is their health. He does all he can to ensure the health of the breeding though linage research as well as proper pre-pregnancy testing of his Dames and sires. It was also obvious that he wants to make sure his pups find loving forever homes that will take loving care of them. He and is wife are very compassionate and understanding to those of us that love our animals. He was an excellant souce of information for me to find our next Chesapeake. We have remained in touch and I look forward to learning more from him. I would highly recommmend him for anyone seeking a healthy dog. He specializes in hunting dogs but keeps the standards for the breed always a factor in his kennel program.
Submit your testimonial