Blue Moon Wachtelhunds - Washington Deutscher Wachtelhund Breeders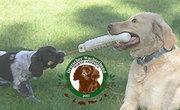 About Blue Moon Wachtelhunds
Our "D" litter is now in the planning stages and we are accepting deposits of $200.00 for pup placements. However if we do not have a minimum of 5 deposits by February we will not breed this spring and at that time we will return, hold, or put your deposit with another breeder to secure you a pup.
Be sure to get your deposits in ASAP for an early pick. Our pups will be selling for $900.00 this year.
For your purchase of one of our pups you will not only have the best hunting companion that will give you untold memorable moments, but your pup will have our 5 year health guarantee and a purchase agreement backing our commitment to produce the best of this great versatile hunter. We are members of the DWNA (Deutscher Wachtelhund North America) along with the German group the VDW and require each purchaser to also become members because of their support and breeding supervision that will keep the Wachtelhund tradition "Bred by hunters for hunters"
Jim Cowgill
Blue Moon Wachtelhunds
13421 W Sunnyvale Dr
Nine Mile Falls, WA 99026
Hunting Dog Breeds Raised
Deutscher Wachtelhund
Additional Services
Training, Boarding
Breeder Contact Info
Testimonials (3)
Submitted by: Wolfgnang E. Beck, RFT on Apr 05, 2011
We have owned several Wachtelhunds over many years and have never had a more positive experience with a dog than Bess Vom Blue Moon (born May 19, 2010).
Bess is exuberant, gregarious, fun-loving and a real people-pleaser. Easy to train in capable hands, her intelligence shines through in the bush and at home. As beautiful as her mother, Jade, she is healthy, wonderful with children and the best companion one could have in the forest.
Jim and Colleen Cowgill are passionate about their Wachtels, and we have only had a positive experience with their Kennel both before and after we purchased Bess.
Submitted by: Ken on Apr 01, 2011
I have not purchased a puppy from Jim, yet have hunted over his Wachtelhund Jade.
She has always been a willing part of the hunting party. The hunts I have been on are late season Canadian goose hunts, ice and all. Those large honkers are no match for Jade, even on those long retrieves (Sorry Jade I'll shoot better).
Jim is very capable and caring with his dogs. He is dedicated to the quality of the breed and the continuation of it's line.
Submitted by: Crystal Parker on Apr 01, 2011
I've hunted over Jade in big seas on the salt and watched her go again and again and again on tough Scoters and Brant. The never slowed down for a second!
Submit your testimonial