Arlington Kennels - Washington English Setter, Labrador Retriever Breeders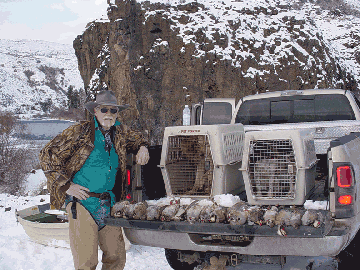 About Arlington Kennels
I breed, train and sell, English Setters, Yellow Labs, Labradoodles, and Gaited Horses, for Field trials and Hunting.
I raised, trained and handled English Pointer, Field Trial Hall of Fame: "11X CH Jerry's Runaway Bandit ".

I also trained, and developed, Setter champion and the foundation of the "Tekoa Mountain Setters", "Ch Tekoa Mountain Hope".
We breed several litters of English Setter a year and several litters of Yellow labs. We are also breeding Labradoodles and Standard Poodles. Check our website for up coming litters.
Hunting Dog Breeds Raised
English Setter, Labrador Retriever
Additional Services
Hunting, Training, Stud Services
Breeder Contact Info
Testimonials (3)
Submitted by: Eric and Hilary on Mar 03, 2011
We got our puppy Diesel from the litter born August 17 2010 and by the time he was 4 months old he was sitting, shaking, high fiving and already retrieving. He is an amazing dog and has great ability to learn and has great insticts. He swam for the first time at the age of five months and swam like a champ, retrieving bumpers the same day. He responds to fetch it up and dead bird like he was born with that knowledge. He responds to duck calls and immediatly looks in the air for them. Over all he is the best behaved dog we could have imagined recieving and we wouldnt ask for any different. We know he will be am amazing bird dog and cant wait to get him out on the field next season. Jerry is a great breeder and assured us the potential of Diesel. We believe he was 100% correct and Diesel has turned out to be like nothing we expected.
Eric HIlary
Submitted by: Timonthy M. Snowden on Jul 24, 2009
Jerry:
At 6 months old all this dog will do is find birds by scent, hold point on them, and then fetch them when I shoot them. How am I going to win a National Field Trial with him at 8 months at this rate?
All kidding aside, he's everything you said and more. The only thing holding this dog back is his trainers lack of experience. I shot 20 birds over him that he pointed in the last week and a half, 5 of them were planted pheasants. He likes getting the pigeons, but he LOVES the pheasants. It almost looks like he gets high when he fetches one. He's holding point extremely well, and he's just about got the whoa command down pat. I can stop him in his tracks in the field most of the time. He responds real well to most of the basic other commands of here, heel, and kennel. He's finding birds by scent alone, and learning about the pitfalls of the field like rattlesnake avoidance and cactus. I can't wait to get him after some wild birds this fall. I wish I could keep him out there with me to work with but it's just not practical.
If you need better photos for your website or something, let me know, I have the uncondensed versions that are a MEG apiece or so.
Timothy M. Snowden
P.O. Box 289
Penrose, CO 81240
Submitted by: Dan and Claudia Volland on Feb 26, 2008
I have attached 4 pictures of Burning September Simmerdown (Sep), the last male lab pup you had in September of this year. I want to say thank you for bring a part that we had lost back into our lives. It was tuff at first when I brought Sep home. He was so full of himself. Hard headed but would try to please. He is a very strong and full of life. We were not going to hunt this year because of our loss, but Sep has brought life back. Sep started to grab things and carry them from his first day with us. Within a week, he was out by the pond and pulling leaves and twigs out. By October he was on the scent of passing quail. So anyway, training began just for the fun of his interest. Next thing you know we are out in the field and the riverside ponds and inlets. Sep has never stopped or even slowed down. He is VERY aggressive in thick brush and slow water or ponds. I wish I would have taken my camera sooner so you could see him on the ducks. These pictures are from Sunday December 2nd down in the valley in a free hunt area. We got a late start so we didn't hunt any ducks but got a lot of quail and pheasant up. Sep used his little nose all day and brought back 4 quail and 2 large pheasant males. In October, at 3 months of age, Sep went out on his first hunt bringing in 3 teal, 2 wood and 2 green heads. This small pup swam in side waters of the Yakima and brought them back like he had been doing this all his life. We have gone out every weekend since. Sep is a baby and doing better than some adult dogs that have hunted for years. He has much to learn but what a start! Thank you Jerry and Claudia! Dan and Claudia Volland
Submit your testimonial