Anyan Lodge Pups - Washington Wirehaired Pointing Griffon Breeders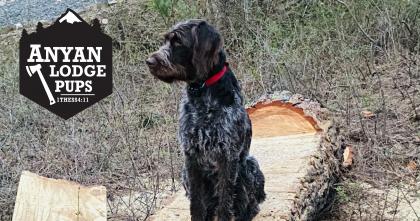 About Anyan Lodge Pups
Prov. 12:10 Good people, are good to their animals. Family owned and operated, at Anyan Lodge Pups we love raising and caring for lots of different kinds of pups, both the kid and dog variety. With over 30 years of experience breeding and raising various dog breeds we work hard to ensure our dogs are well-cared for and loved by families that will do the same.
Hunting Dog Breeds Raised
Wirehaired Pointing Griffon
Additional Services
Stud Services
Breeder Contact Info
Puppies for sale
Testimonials (4)
Submitted by: Megan on May 20, 2021
Jackie and Heath were absolutely wonderful to work with! We have had our pup for just about 2 weeks now and he is doing amazing. He's full of energy with a lot of love to share. We've moved to a new home during the time that we have gotten him so he's just gone right along with all of the changes over the past few days. Our 5 year old son named him "Kovu" (Lion King 2) and he is responding so well to his name, commands, and has not had an accident in the house in over a week! Bonus- he's been sleeping through the night since day 4.
We've been so pleased with Anyan Lodge and wouldn't hesitate to refer them to friends as well as use them as a resource for any future pups!
Thanks again Jackie and Heath!
-Megan and Brooks
Submitted by: Jill Rulis on Jan 05, 2021
I could not be more impressed with Anyan Lodge Pups!! The breeders are professional, knowledgeable, and happy to answer my many questions! Our puppy is a beautiful Wirehaired Pointing Griffon, a perfect example of the breed! Even in the midst of COVID, they made the adoption process comfortable, easy, and seamless!
Submitted by: Vanessa on Jan 03, 2021
My husband and I had a great experience working with the breeders at Anyan Lodge. They were super friendly and happy to answer any questions we had. They were very responsive and clear in their communication. I loved that they kept us updated on the puppies and sent over plenty of pictures, which made the wait a little easier! The pickup day was very efficient and well organized. We are so happy with our puppy and the overall experience! We would highly recommend Anyan Lodge to anyone!
Submitted by: Mary Bauman on Dec 22, 2020
I bought a WPG puppy born July 9, 2020 from Anyan Lodge in Nine Mile Falls, WA. The breeder was very personable and professional. The puppy had a good start with being raised in a family environment at Anyan. She is now five months old, healthy, and seems to have a strong bird instinct. She is a beautiful dog.
Submit your testimonial