Windstorm's German Shorthaired Pointers - Virginia German Shorthaired Pointer Breeders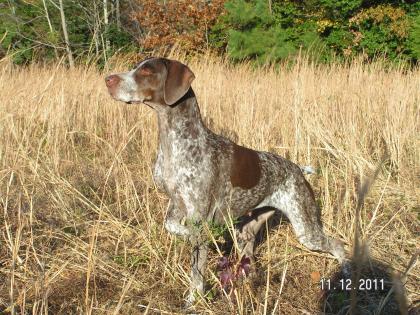 About Windstorm's German Shorthaired Pointers
We have over 30 years of breeding and training verstile hunting dogs experience.  Dan is very active in NAVHDA and was a Senior Judge as well as an AKC hunting test judge. He has had numerous dogs achive a Utility Prize I score and has been to the NAVHDA Invitational. He as also titled numerous Master hunters. Daphne shows in obedience, hunt tests and confirmation shows as well as NAVHDA events. If you already own a versitle hunting dog we will train it to compete to what ever level you request.
We have bred CH Windstorm's Maggie Mae, JH NAVHDA UT II to BISS GCH NMK Cross County Roamer, JH. We are currently taking reservations. Puppies were born March 9, 2017.
Hunting Dog Breeds Raised
German Shorthaired Pointer
Additional Services
Training, Stud Services
Breeder Contact Info
Our Pedigrees
Testimonials (3)
Submitted by: Bill Fletcher on Aug 21, 2012
Dan and Daphne are two of the finest people I have ever met. They both take pride in there breadings and have a very good working knowledge of the breed. I puchased a female from their Feb. 2012 litter. She is my fourth GSP and is the best dog I ever owned. The only problem with this dog is that she a lot smarter than I am and if you know dogs that's not a good thing.
Bill F.
Submitted by: richard cullerton on Feb 22, 2012
I have know Dan Carter for over 14 years and have observed a number of his dogs during that period. In addition to hunting, he participates in AKC Hunt Tests and NAVHDA NA and Utility Tests. His dogs have always done well in each. I am particularly impressed with Zephr the sire of this current litter. Zephr is a great looking dog with a solid build and a beautiful white with liver patches coat. He has a great temperament. I really enjoy watching him do a water retrieve. He has an explosive launch that easily propels him 10-15 feet into the water. In the field, he covers the ground efficiently, has an excellent pointing style and retrieves well to hand. This is his first litter and they are fortunate to have such an excellent sire.
Submitted by: David Kremers on Feb 13, 2012
Dan and Daphne breeds that they would want for their own. I bought a dog out of their last litter as a hunting dog. Decided to test him in NAVHDA at 4.5 months just to see what I had to work on - I had him well prepared but at 4.5 months he became the fourth youngest dog of any breed to earn a 112 NA perfect score. He has since spent some time with Danny Burjan and has placed in Field Trials which we will concentrate on this year along with preparing for the UT test. I have had Shorthairs and English Setters going back to 1969. I knew his Grand Sire and thanks to a dear friend who owned him had him in my kennel for the last two years of his life. A national quality gun dog who could be hunted on foot as well, absolutely amazing. You will be hard pressed to find a dog with the hunt drive and desire to please that these dogs have. Tremendous animals and great family dogs to boot! If you have a horse they will run but if you stay on the ground they will course and cut like mad. Very intelligent animals.
Dave Kremers
Submit your testimonial