San Jack Kennel - Virginia English Pointer Breeders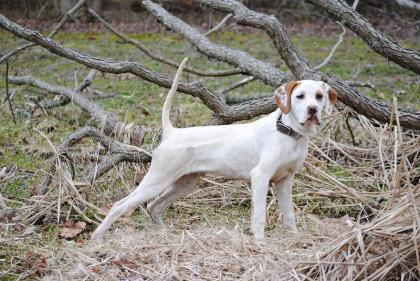 About San Jack Kennel
Now breeding from the best blood lines in the country.
Our stud dog (Jack), is a beautiful specimem. He's the best looking Pointer I've ever seen. Jack is a White and Orange, 60 lb. male, direct son of CH MILLER'S HAPPY JACK, and a DUNNS FEARLESS BUD x GO BOYS SHODOW, bitch.
Jack is the total package. Brains, looks and natural talent. He does it all. Jack was pointing, backing and retrieving at an early age. He is bold and eager to please.
We are very proud of Jack and feel very fortunate to have aquired him.
We have 2 daughters of NATIONAL CH LESTER'S SNOWATCH, ( Angel and Snow girl.) We have a litter whelped, 2/18/2016 Sired by our stud, The San Jack, "Jack" and a daughter of National Ch. Lester's Snowatch. "Snow Girl"
We are a small kennel, but we are breeding for the highest quality pointers.  Breeding for temperment, intelligences, boldness, class, conformation, stamina, and natural talent,
All of our dogs have awsome noses. They are very classy, have excellent comformation, a desire to please, and are breath taking running and on point. This litter is a repeat breeding, the feed back from the previous litter is very positive. Deposits are being accepted.
Hunting Dog Breeds Raised
English Pointer
Additional Services
Stud Services, Birds for sale
Breeder Contact Info
Our Pedigrees
Testimonials (2)
Submitted by: Alina on Mar 09, 2017
We bought a San Jack puppy last spring and love him. Steady, solid temperament. Nothing phases him. His tail is never down. We've taken him everywhere, can leave him with friends when needed; he's never met a stranger. Excellent health. If you're looking for a pet, these are high energy hunting type pointers. Tons of exercise. By that, I mean actual running and galloping. Not short leash walks. Great with kids . . . but will eat all of the toys and anything else sitting around. This has been great motivation for my kids to keep their things picked up. Our pointer started pointing birds the day we picked him up--about 7 weeks old. Crazy birdy!
Submitted by: Pamela Hammitt on May 27, 2016
I purchased 2 English pointers from San Jack Kennel. They are amazing puppies. Great temperament, strong, and healthy! Highly recommend them.
Submit your testimonial