Neverland Flat-Coated Retrievers - Virginia Flat Coated Retriever Breeders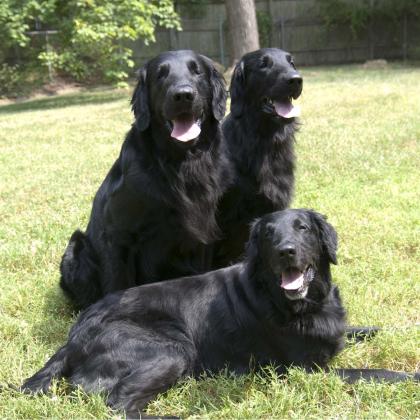 About Neverland Flat-Coated Retrievers
Our kennel's name, "Neverland-Retrievers" reflects the Flat-Coat's attitude as the "Peter-Pan" of dogs. Like Peter-Pan, they are slower to mature, both mentally and physically, than the other retriever breeds. They are also as active and strong late in life as when they were puppies.

The Flat-Coated Retriever is a dual purpose dog, equally at home in the field working alongside a sportsmen flushing and retrieving game and in the show ring exhibit elegance and beauty. The typical Flat-Coat thrives on interaction with people. They are an active dog that adapts to city or country living, but needs daily exercise to keep from getting bored and to maintain their youthful demeanor.

Our kennel strives to maintain the Flat-Coated Retriever's dual purpose nature. We breed to produce Flat-Coats in good health, with ideal temperament and standard appearance as well as a strong working drive. Our dogs are screened for genetic abnormalities prior to breeding.

Our kennel is located in Northern Virginia in the historic Mount Vernon district adjacent to the Potomac River waterfowl migration flyway.
Hunting Dog Breeds Raised
Flat Coated Retriever
Breeder Contact Info
Testimonials (0)