East Coast Llewellins - Virginia Llewellin Setter Breeders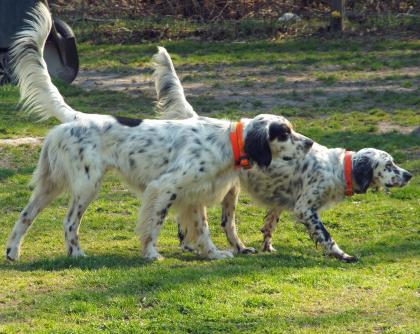 About East Coast Llewellins
Exceptional Llewellin Setters. Our Llewellin Setters are from the finest lines found in the USA. They are registered with the Field Dog Stud Book and DNA tested. Our selective breeding program emphasizes keeping the Bloodlines Intact, free from any traits not conducive to Fine Bird Dogs. Producing one of our Llewellin Setter Pups with the confirmation, genetic natural abilities, intelligence comes from extensive research of Bloodlines, Proven Sire & Dams, going back many generations from here in the USA, to England and Ireland.
Our line of Llewellin Setters come from the lines of Father Bannon of Ireland (Machad Ambassador, Cloncurragh) and Marie Therese a Goes of Belgium (D'Hurlain Pre Kennel). Both Sire & Dams Pedigrees include; Dashing Bondhu, Count Noble, Gladstone, Blizzard, Bomber, as well Irish King Bondhu Ashly, Sire of Henry Prince Of Pause, "HANK" from the TV series Hunting With Hank.
Puppies are $975 (regardless of sex); reservation deposit is $200 and fully refundable up to 4 weeks of age after whelping. All pups will have their first Vaccinations, been on a preventative worming regiment, and Dew Claws removed. We introduce them to a Wing, Lead, socialize them with our adult Llewellins and introduce them to basic "come, stay & whoa" commands. We are located in Chesapeake, VA. Call Ty at 757-692-4362. Visit us at eastcoastllewellinsetters.com
Hunting Dog Breeds Raised
Llewellin Setter
Additional Services
Stud Services
Breeder Contact Info
Testimonials (1)
Submitted by: Susan Moore on Aug 20, 2017
Our dog, Lucy, is now 8- and the best family dog anyone could ask for. We found Pam and Ty after a long search for an English Setter- that included a visit to another breeder who had several hundred dogs! We were so happy to find East Coast Llewellin Setters close by. Our son was then 2 years old, and we added another baby to the mix and Lucy has been the most gentle, loving family dog anyone could hope for. She is the fastest dog I have ever seen- and when she is outside she is all business pointing butterflies, hunting moles, and the list goes on and on! We were able to meet all of their dogs before selecting a puppy which was very important. The bloodlines of their dogs are second to none. I would highly recommend them!!
Submit your testimonial