Twombly Setters/Coronation kennels - Vermont English Setter Breeders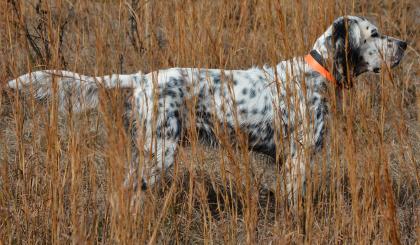 About Twombly Setters/Coronation kennels
Earl Twombly started breeding and showing English Setters in 1925 in Waterbury, VT. His most notable dogs were CH "Joe Silver" in 1930, "Duke of Decoverly" in the 40s, "Cider", Corey Ford's beloved setter in the 50s, and "Tober", Cider's son in the 60s along with Earl's own CH "Chief". All were bred, developed and trained through Earl's methods. Earl's legacy continues today through his daughter, Becky, and grandson, Legh. We are cultivating the Twombly lines, which originated from early English field and bench bloodlines in the '20s. Earl Twombly worked to have good looking, strong-going field dogs, and that's what these dogs are. The current catch phrase is "dual" - beautiful yet still full of bird sense. Earl's and Becky's dogs frequently would win at a show on a Saturday then point and retrieve grouse and woodcock on Sunday. Many current "dual" breeders have built their kennels including Twombly dogs. Active kennels including Twombly lines today include Pine Coble, Setter Hills, Alderwood, Oldfield, October Setters and many more. Corey Ford had Twombly setters, and wrote some of the best upland sporting stories this generation has produced. The real lower forty club life members "Doc Hall" had one of Earl & Coreys pups Timber "Cousin Sid" had Bucky a Twombly setter. Legh Higgins said "We have a family 3 generation love for gun dogs. WE dedicated our retirement to these fine setters...and follow in Corey's footsteps from the uplands of New England to South Georgia and the pine plantations with wild coveys of Quail". Legh and Jennifer Higgins hunt the coverts of the Northeast Kingdom in northern VT in October then travel south in November when the snow flies... to No. Florida They train dogs and guide hunters on Olympia Bend Plantation in south Georgia with their 6 adult English Setters. Please visit our Facebook page at Twombly Setters, where you can see over 100 pictures of our beautiful dogs. Check out our website: twomblysetters.com.
Hunting Dog Breeds Raised
English Setter
Additional Services
Training, Stud Services
Breeder Contact Info
Testimonials (3)
Submitted by: Genevieve Cardozo on Sep 14, 2015
All the way from Texas we flew to meet our first English Setter at Coronation kennels. The experience was so exciting. Legh and Jenn are very involved and passionate about their dogs in every aspect. Leading up to pick up day we had a few months of correspondence via emails, face book and phone calls that made us feel like we were seeing old friends. Our pup is only 10 weeks old but he's been hunting, responding well to simple commands and of course a great cuddle buddy too. We feel so blessed to have welcomed a Twombly Setter in to our hearts! Thanks you Legh and Jenn Higgens
Truly,
Sam & Genevieve Cardozo (WindSongRanchTexas)
Submitted by: George Newbern on Mar 05, 2014
I had the privilege of shooting quail with Legh and Jen Higgins over their beautiful Twombly setters at Olympia Bend Plantation on the shores of the Withlacoochee River in Lowndes County, GA a couple of weekends ago. A Southern boy all my life I usually hunt over Pointers and rarely get to watch the work of English Setters. The Higgins' dogs were trained to perfection, had superior noses, and were as biddable as any dogs I've ever hunted over. Fantastic dogs, people, and shooting grounds...Geo. Newbern
Submitted by: Dean Romig on Nov 28, 2013
Two nicer people you'll never meet than Legh and Jenn Higgins - and their setters are lovely and well mannered. You will not be disappointed.
Submit your testimonial