Upper Ridge Brittany - Utah American Brittany Breeders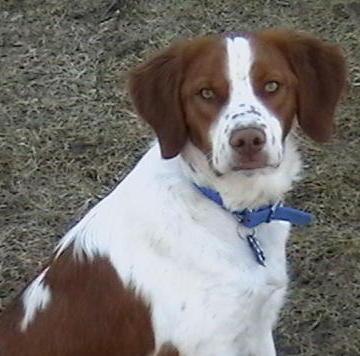 About Upper Ridge Brittany
Upper Ridge is dedicated to Brittany improvement. Our mission is to raise the whole dog, one who hunts, loves the family and has show qualities. We believe that Brittanys must, first and foremost, be able to hunt, as this is their core nature, and have a temperament that is pleasing and kind, with a willingness to socialize easily into the family setting. These two aspects of the Brittany's nature are equal in our view. Second, we seek dogs that conform to breed standards. This aspect allows those who wish, to show their Brittany companions. To date, we have several Upper Ridge puppies doing well in various AKC and American Field sanctioned events, such as field trials, hunt tests and show venues.
You can't beat these dogs for hunting ability. To ensure gentleness, we socialize our puppies with children of all ages and numerous dogs. They make great family members. Upper Ridge dogs come with a 3 year health guarantee against genetic problems and our promise of the best hunting and family companion.

Additionally, we offer introduction courses for those new to dog training. Thus helping those new to the sport set off on the right foot. Check out our website each spring for dates and times.
Hunting Dog Breeds Raised
American Brittany
Breeder Contact Info
Testimonials (4)
Submitted by: Gerald E Macken on Apr 08, 2011
I just bought a pup out of Tania and Ron. I talked with Ron Marchant the breeder several times about the litterer and with his help we bought a pup. I have raised Brittanys for several years in Minnesota out of the Maverick line. So far I would rate this pup excellent. It is exactly the pup Ron told me it was. I highly recommend this litter if all the pups are like mine.
Submitted by: Jenn Earles on Jan 09, 2011
Rodney was great to work with. We had good conversations via email. The puppy was a Christmas gift and Rodney was kind enough to hold her until Christmas Eve so I could keep the surprise a secret as long as possible. We couldn't have asked for a better dog. She's a great instinctual hunter, and a wonderful family dog. We've kept in touch with Rodney who is great to answer any questions we have had throughout the training (us more than the dog) process. We highly recommend Upper Ridge and will definitely use them again in the future.
Submitted by: sponsler on Sep 20, 2009
Upper Ridge Brittany's was very easy to deal with. They answered all our questions in a timely matter and were very helpful in our distance. We love our male Brittany Trigger he is great. He's great with the kids and has made him self very at home. Were very grateful for him and a big thanks to Upper Ridge for such a great experience.
Submitted by: Lane Robinson on Mar 07, 2008
Upper Ridge Brittany was a great experience for our family. "Penny" our new female Brittany, is a wonderful dog. She has beautiful markings and when she stands and prances she looks like a champion.She has a loving attitude and looks to please everyone in our family. She is extemely smart and learns very qickly what you expect. Rod at Upper Ridge was very helpful in helping us find the dog that has work well in our family. I would recommed this breeder and their dogs to anyone they are beautiful. Every time I go into the pet store I can't walk very far before we having eveyone stopping us to look at penny. Thanks to Rod and upper Ridge for a great experience and a wonderful dog.
Submit your testimonial