Steady to Wing Shorthairs - Utah German Shorthaired Pointer Breeders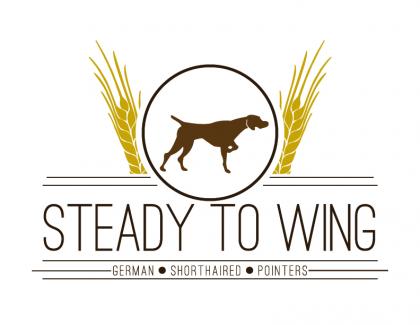 About Steady to Wing Shorthairs
Steady to Wing is a dedicated breeder of Fine German Shorthaired Pointers for the Hunter and Family. Our highly selective breeding program emphasizes biddability, versatility, natural ability, health, and prey drive in order to produce a well-rounded, easily trained, and highly driven bird dog.

Our mission is to improve the breed utilizing a "dual pronged" approach, the first prong being improving the genetic quality of our lines utilizing our selective breeding program and validating the program through testing and trialing. The second prong, ensuring the dogs are placed in homes that will continue the integrity of the lines and breed and supporting those that have the dogs to help them have a successful and long life doing what they're bred to do. In short, we want to provide you with a dog that is well bred and easy to train, and then support and help you ensure you get the most of your dog.

Our lines contain many champions, including many Uodibar and Dixeland lines. We offer liver and white coloring as well as black roan/solid variations. We occasionally offer training services and Started / Ready to Hunt dogs. Contact us or visit our website for more details.

We look forward to hearing from you, and providing you with that Bird Dog of a lifetime.


Hunting Dog Breeds Raised
German Shorthaired Pointer
Additional Services
Training, Stud Services
Breeder Contact Info
Testimonials (2)
Submitted by: Wesley H. on Mar 03, 2017
I just wanted to thank you for selling me Remy. This weekend with only the retrieving training I knew how to do, she sniffed out roughly 15 birds in various conditions and even in the tallest grass. So the first two she pointed and flushed them instantly but she quickly learned to just point and hold after that on her own. She caught two birds on her own ( when the shots were missed by my buddies) and caught them in some grass they couldn't get away from her in. Mind you that's after she chased them for a 100 yards. She has a soft mouth and does not damage the bird and brings it to hand. We also had shot the birds and they we downed a pretty good distance away in some pretty thick stuff that I don't think we could have found on our own, and every time she came back with the bird. We also started working with her on water retrieving. With a little work she was swimming out 25-30 feet out to bring the dummy back. She is a hunting machine and tough as nails. She was cut up pretty good by some barb wire ( the one time we didn't get there in time to let her through, and it did not phase her because she is tough as nails.. Both my buddies are jealous of her and wish I could make copies of her.
Submitted by: Duston & Brinnley on May 17, 2016
Kyle,
We got our puppy Daizy from you in May of 2015. She is an amazing dog! She is a very smart dog and has been easy to train. Daizy loves to run and hunt all day. From the beginning of the hunting season you could tell she had a natural hunting instinct. By the end of the hunting season she had gotten the hang of it. She locks on point hard and will always retreive the bird. Daizy is also great with our other dogs and gets long with kids and people very well! She loves attention and can play fetch for hours. We are impressed with the good quality of breeding, and the professional manner of Steady to Wing.
Thank You,
Brinnley and Duston
Submit your testimonial