Sprig Kennels - Utah German Shorthaired Pointer, Labrador Retriever Breeders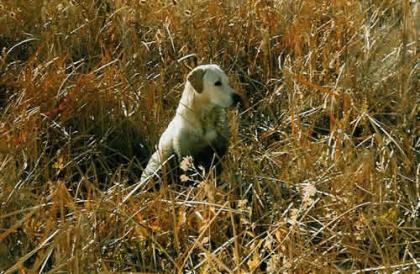 About Sprig Kennels
Expert gun Dog Training. We have been training gun dogs since 1993. We train both upland game and waterfowl dogs, including pointing,flushing and retrieving breeds. Check out our website for SportDOG training collars and a  variety of training equipment. Started Labrador Retrievers and German Shorhairs and Labrador Retriever puppies are often available.

Hunting Dog Breeds Raised
German Shorthaired Pointer, Labrador Retriever
Additional Services
Training, Stud Services, Boarding
Breeder Contact Info
Testimonials (6)
Submitted by: Brandt Sanders on Jan 18, 2013
In the last 10 years I have purchased 2 yellow labs from Sprig Kennels. I have also utilized the training and boarding services. My experience has been top notch. Spring Kennels produces fantastic bird dogs and family pets. You can't go wrong!
Submitted by: Josh on Jan 15, 2013
I bought a dog from Jeff about 6 years ago and she is amazing, a natural hunter and very birdy!!We sent her back to Sprig Kennels to be professionally trained on birds and he did an terrific job she is amazing! Very well breed dog and nicely trained! I highley recommend Sprig Kennels and Jeff Strong for all your training/breeding needs!!
Submitted by: Mike Thompson on Jan 13, 2013
I purchased my puppy a yellow lab male several years ago and when I purchased the dog after a couple weeks of socializing the pup I started training him myself. The train ability of that pup was awesome within the first 8 months I could have had his Jr. Title. And probably his Sr. Not long after. The process of the initial purchase was wonderful, Jeff was very helpful when I was making my selection. And it is for these reasons that I am purchasing another one from Sprig, and will continue to do so as long as they are around. Thanks Jeff
Submitted by: Mitch Hancock on Jan 10, 2013
We recieved Honey from Sprig kennels nearly 6 years ago. She has been a fantastic dog for upland game and waterfowl. Her hunting capabilities came very naturally and with the help of Sprig Kennels she is top notch. Not to mention the wonderful demeanor with our kids.
Submitted by: Jessica on Sep 30, 2009
We got our little Ruby 2 1/2 years ago from Jeff and she is an amazing natural hunter. Before we even sent her back to Jeff for training she was already finding birds, I have never had a dog before that can point and then flush a bird. She has a very sweet personality and is great with our kids. We have now sent all three of our labs to Sprig Kennels for training and Jeff does an incredible job. We will be breeding Sprig's little Ruby within the next year to carry on these great lines of hunting labs!
Submitted by: Keith & Ashley on Mar 31, 2007
WOW! I can't believe how smart Buddy is! When we do training he understands so quickly. I think it has been about two weeks and we have made some great progress. I knew Jeff had a great breed of dogs but I guess I didn't relize how smart Buddy is. He is very laid back, friendly and enjoyable to have in our home. Thanks Jeff for selling us this wonderful puppy!
Submit your testimonial