Maple Mountain Kennels - Utah English Pointer Breeders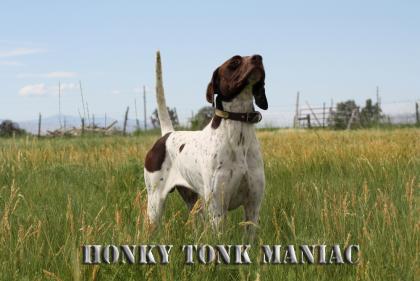 About Maple Mountain Kennels
Maple Mountain Kennels is owned and operated by Craig and Peggy Shaw.
We have been in operation for over 15 years now. Our kennels are located in Mapleton, Utah.
Maple Mountain Kennels is dedicated to breeding the very best English pointer bird dogs and improving the breed.
Home of HONKY TONK MANIAC a Direct SON of 9XCH HONKY TONK ATTITUDE and If we can be of any assistance, whether it be training tips, facilities advice, a new puppy or started/finished dog, feel free to drop us an e-mail or give us a call. We appreciate the time you have taken to learn about us and look forward to serving you in the future.
.
Hunting Dog Breeds Raised
English Pointer
Additional Services
Hunting, Training, Stud Services, Birds for sale
Breeder Contact Info
Testimonials (3)
Submitted by: Mike and Deb Palmira on Jul 12, 2015
We picked up our Addie on July 4, 2015.... The Shaws are wonderful people and the pups are amazing. Smart, well adjusted puppies, and adorable. They have been socialized and taken care of by this wonderful family and it shows. Addie fit right in with our other dogs and was sleeping through the night (7 hrs) by night 3!!!. She is a great addition to our pack and we are fortunate to have found the Shaws right here in our own state! Thanks, Craig and Peggy!!!
Submitted by: Ed Hall on Jul 13, 2010
Well after a little wait I got my pup from Maple Mountain Kennels and he is all that he is supposed to be. I had him hauled up from Utah to Oregon and he was so socialized that he acted like I got him down the street after a week on the road. Even the dog hauler was impressed with the pup. I can't say enough about the way I was treated and can't wait to hunt with Craig this fall. So if your looking for some of the best bred English Pointers out there give Maple Mountain Kennels a call.
Submitted by: Ed Hall on Oct 15, 2009
If you haven't talked to Craig Shaw at Maple Mountain Kennels your missing out he is top notch all the way and really cares about the dogs he runs and breeds. I'm waiting patiently for my pup and meeting Craig in person.
Submit your testimonial