McPherson Bird Dogs and Hillbillie Vizslas - Utah Vizsla Breeders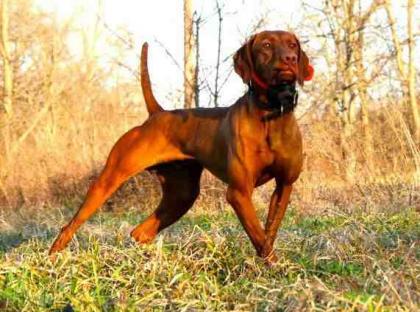 About McPherson Bird Dogs and Hillbillie Vizslas
McPherson Bird Dogs and Hillbillie Vizslas are dedicated to breeding high class bird dogs. I grew up around bird dogs and chose to breed Vizslas because of their phenomenal personalities. My breeding program is based on over 20 years of observing and competing in the National Vizsla Association and Vizsla Club of America National Championships as well as extensive pedigree research. Dogs that I have bred are competing at the highest level and winning. I have numerous American Field Championships and Classic placements as well as hundreds of broke dog field trial placements.
You cannot have great bird dogs without considering both health and temperament and that is why I make both a priority. My dogs are independent yet biddable and are great companions around the house.
All of my puppies are raised in my home and all are well socialized around children. They all come with a two year health guarantee, their puppy vaccinations, and tails docked.
You can find me on Facebook at McPherson Bird Dogs & Hillbillie Kennels or call me (Josh) by telephone at 801-372-5481. Please also check out my classified ads.
Hunting Dog Breeds Raised
Vizsla
Additional Services
Training, Stud Services
Breeder Contact Info
Testimonials (5)
Submitted by: Bridget Nielsen on May 16, 2016
Hillbillie Vizslas were unknown to me until I visited Utah for the National Vizsla Association Western Classic Field Trial and saw some of the most incredible dogs that were bred by Josh McPherson. I picked up a pup later that year from his Trouble/Dutch pairing and boy did I end up with a gem of a dog. I measure the worth of a dog by it's ability to hunt wild chukar and this dog blew my mind on our first hunt in Idaho. She is a driven, birdy, cooperative, and very intelligent bird dog. She also has competed in AKC Derby Field Trials and easily won two stakes against 12 and 14 dogs respectively. She also took several placements in dual sanctioned events. A bonus is that she LOVES water. My first passion is hunting and having a well bred vizsla by my side is my second. My pup from Josh makes me proud every time I'm in the field with her and I look forward to her very bright and promising future! If you are looking for a classy red bird dog to hunt and trial over, then get one from Josh!
Submitted by: AARON LINFANTE on May 08, 2016
I've seen a lot of the field Vizlas out there and when the time came to buy one for myself I chose McPherson Bird dogs. Josh breeds the most consistently competitive dogs I've seen. The pup I have is almost two and runs field trials during the day and sleeps on my son's bed at night. His athletic ability, style and temperament are unmatched. I wouldn't hesitate for an instant to recommend Josh or his dogs. Feel free to contact me for a reference.
Submitted by: Bonita Austin on Jan 22, 2013
I have a spectacular Hillbillie Vizsla bred 4-year old Vizsla female. This beautiful, and sweet girl can out run anything on the ground, is a top-notch bird dog, and has the best style in the breed.
I call her my secret weapon in field trials. She won the first broke dog AKC stake she ever ran in and went on to place the next weekend in the NVA Western Open Classic (Shooting Dog).
You simply can't beat this dog for trialing, hunting or around the house. Need a bird? She'll find you one. Picky about style? All Hillbillie dogs have outstanding style. Feeling lonesome? Curl up on the couch with this angel. The Hillbillie Vizsla breeding program is well researched and backed by Josh McPherson's extensive knowledge of the breed and pedigrees. He knows how to match up pedigrees to give you a great companion that will go the distance in the field or out hunting chukar in the mountains.
Submitted by: Darrin Nielsen on Feb 03, 2009
I bought a female pup from Josh, Hillbillie Vizslas and she has been the best Hunting Dog that I have had so far. I have had a couple Vizslas and this is by far the boldest and hardest working pup I have ever had. Little Magie locks up on a point and does not move unless commanded. She will lock up on the sent of the bird. Yesterday she locked up under a cedar tree and I was looking all around trying to find the bird; all of a sudden the bird flew from the top of the tree. this little pup locked up on a sure sent. That was impresive.
Submitted by: Geoff Lawson on Jan 29, 2008
Picked up a pup from hillbillie vizslas and it has been the best dog experiance of my life. You can feel the passion that they have for their dogs and the passions the dogs have for birds. I am new to the Vizsla breed, but I am now hooked forever what great dogs, and great dogs only come from great breeders. What a great experiance.
Submit your testimonial