Cani Montagna - Utah Spinone Italiano Breeders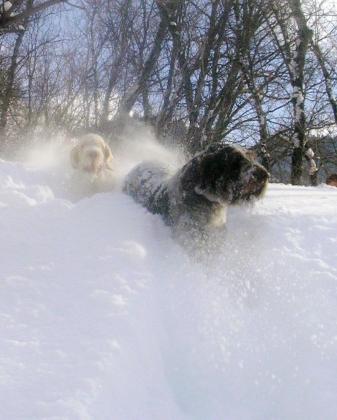 About Cani Montagna
We are very proud to present our Italian Spinone Dogs here in Covered Bridge Canyon, Utah. We are nestled in the mountains of the Wasatch Front near Spanish Fork, UT. (Thus our name, Cani Montagna, which is "Mountain Dogs" in English). If you are looking for a hunting dog that can do it all, point, retrieve, swim, track and yet is calm in the house, then this is your breed. They are so sweet they will make any burglar feel at home. We have put a lot of effort, time and sacrifice into obtaining only the highest quality dogs which make not only ideal hunting companions, but family members as well. Our dogs are breed for perfect health, big bones and frames under 100 lbs. We also strive for dogs with hair that lays relatively flat so burrs and mud are not a big problem. Their sweet, calm personality is also critical. If you buy a pup from us, you will have all rights and control of your dog. It is your dog! I only require that you take good care of him, it's a house dog. Refer to contract.

Our Spinoni are a part of our family, living in the house and participating in our family time. They are such wonderful dogs they have won our hearts, and we will be forever devoted to this marvelous breed.
Hunting Dog Breeds Raised
Spinone Italiano
Additional Services
Fishing, Stud Services, Boarding
Breeder Contact Info
Our Pedigrees
Testimonials (1)
Submitted by: Marcia Schor on Mar 26, 2021
Our 6 month old puppy is a perfect spinone. She is healthy, big-boned, intelligent and calm. Easily trained and a loving family member. So grateful to Cani Montagna for their excellent breeding program and wonderful puppies.
Submit your testimonial