Bullock Labrador Retrievers - Utah Labrador Retriever Breeders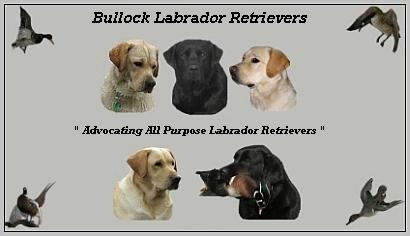 About Bullock Labrador Retrievers
Bullock Labradors strives to produce top quality dogs with excellent conformation, health, hunting ability, intelligence and temperament. We breed strictly English influenced style Labradors. Our dogs are bred as All-Purpose Labrador Retrievers; they have the potential to excel in the Show Ring as well as the Field. Currently we only produce one litter of puppies per year. We put extensive research and thought into each breeding to ensure the highest quality and healthiest litter possible. With each breeding our goal is to better our breeding program and a small piece of the Labrador Retriever breed as a whole.

The Bullock family has raised and loved Labrador Retrievers since 1968. For an all around dog there is no competition with a Labrador. They are wonderful in the field and equally wonderful in the home. There are very few breeds of dogs that I completely trust around my children and Labradors are number #1 on the list. Labrador Retrievers are very loving dogs always willing to please no matter what the situation.

Take your time, do your homework and make an educated decision when choosing your new 12-15 year family member. No matter whom you purchase your new puppy from, make sure the necessary health screenings have been done on both Sire and Dam of the litter. A minimum of an OFA or PennHip clearance on their hips, OFA clearance on their elbows and current CERF clearance on their eyes should be done prior to using any animal for breeding stock. Breeders are currently taking further steps to ensure the healthiest litters possible by getting certifications such as; OFA Cardiac, OFA Patellar, OFA Thyroid & Optigen PRA. Please do not support Puppy Mills, Pet Brokers and Backyard Breeders. Supporting these individuals and organizations is very detrimental to the breed we know and love. We all need to work together to preserve a healthy and happy Labrador Retriever breed.

Hunting Dog Breeds Raised
Labrador Retriever
Additional Services
Training
Breeder Contact Info
Testimonials (1)
Submitted by: Finn Bo Petersen on May 17, 2011
Aquired two female litter mates from Bullock (Maia and Blitz, 2-1/2 y)and was extremely happy and impressed with the overall experience. Was screened and able to follow them from prior to conception to picking them up via emails, web and youtube videos. This is without question a top end breeder caring as much for the breed as for his dogs as for the dogs going to the right home. The intelligence, health, obedience and temperement of our two labs are exceptional. They have been easy to train, and give us pleasure every day by clearly being well balanced, contend and accepting of their place in our family. I can without hesitation recommend this breeder, I have a hard time envisioning any other breeder being better, as well as getting more perfect all purpose labs than ours.
Submit your testimonial