White Deer Kennel - Texas English Coonhound, Plott Hound, Treeing Walker Coonhound Breeders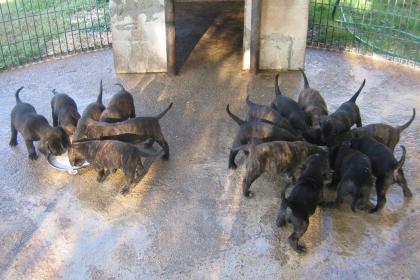 About White Deer Kennel
White Deer Kennel is owned and operated by the Burkett Family. Joe Burkett III, DVM has been hunting and raising hounds for 50 years. We are dedicated to breeding for cold nosed ability, superior voice quality, conformation, personality and huntability.
Breedings are made with a specific end product in mind....Raccoons, Hogs, Mountain Lion, Bobcat, and Bear. All pups are whelped in the house, raised around the house, wormed, vaccinated and well socialized.
Our dogs are flexible. Some have made excellent blood trailing dogs for the South Texas Brush Country, a few have made excellent Wild Cattle Dogs for the Border Country in addition to the traditional hound dog jobs. We are able to ship worldwide. A group of our dogs have recently moved to Turkey to become traditional wild boar hounds. Call, email or write to talk hounds.
Hunting Dog Breeds Raised
English Coonhound, Plott Hound, Treeing Walker Coonhound
Additional Services
Hunting, Training, Vet
Breeder Contact Info
Testimonials (4)
Submitted by: Paul Erwin on Sep 21, 2013
Dr. Joe is the foremost breeder of Plott hounds in the known world. He is a wizard at mingling blood and his world class outcome is the end product testimonial. My Ruby dog is out of Coconut and Dollins-Hicks cross. I will never own one better. Ar 12 weeks she was treeing squirrels, at 9 months she treed 12 separate coon by herself in 2 and 1/2 hours at the White River in Arkansas. Last winter sne nailed 4 bobcats. I have never hunted a more gamey, vicious dog. She kills rattlesnakes like a bulldog. She will strike off the box, and will eat a man up who tries to break in my house! She is beautiful, 65 pounds of pure hell fire. She was trained by herself, with no other dog. She has no reverse, she is a scrapper and an alpha female. God help the man who even raises his voice to me. She makes a pit bull look like a guardian angel, these hounds are for serious hunters and the are not house pets. As they mature they make good house dogs but they have to mind. You must be alpha over them and they will respect and serve u well,
Submitted by: Darrell Hurley on Jan 30, 2013
I personally bought 2 dogs off him a walker and a plott both are high energy dogs with a lot of grit and go treeing ability and track drivers iv caught bears lynx bobcat with them and even bayed up grizzly I am very please with my two and after the people Ive been hunting with seen what they have bin doing they have also bin getting pups from there and are happy with there pups as well
Submitted by: Paul Erwin on Feb 11, 2011
Dr. Joe is a great guy. He provided my wife and I with a free overnight stay at the guesthouse at White Deer Preserve when we went to pickup our pup January 7, 2011. World class hounds, world class service. I got a world class female Plott pup and I plan to purchase another pup this coming year. I also made a friend for life.
Submitted by: John McCann on Feb 26, 2009
Great Vet, Top Notch animals and very friendly service. Few breeders give you life time care and advice on your pups !!
Submit your testimonial