Burger's Vizslas - Texas Vizsla Breeders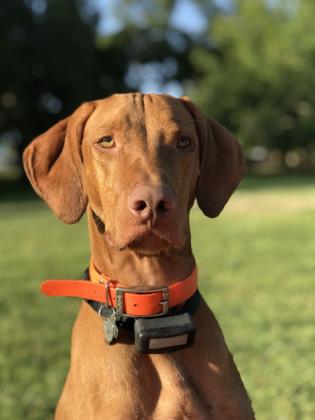 About Burger's Vizslas
We've been breeding Vizslas for over 13 yrs in San Antonio and currently in Boerne, Texas.  Thanks for your interest in our Vizsla Pups. They are a very special breed as you've discovered through your research. We spend a great deal of time with all the puppies... socializing, playing and training.  I log the day to day contact and training and will update this site with new events, videos and pictures often. We DO NOT restrict you from breeding the dog you choose. The pictures and videos on this site are from this current litter and the last litter. "Whiskey" is from our last litter, he already enjoys bird hunting with Dad. We currently have 2 litters of 9 pups each. Lady's litter was born 3/18/19 and Ruby's litter was born 4/11/19. We have a total of 10 males and 8 females. To come visit the pups, please call me at 210-365-5228 or my husband at 210-315-5223 and setup a time. Once you've made the decision to purchase, please place a $200 deposit to hold the puppy of your choice. 
Hunting Dog Breeds Raised
Vizsla
Additional Services
Training, Stud Services
Breeder Contact Info
Testimonials (3)
Submitted by: PL Laird on May 18, 2019
We have two Vizslas...both pups were from Lady (separate litters). Reagan, who will be 7 this year, is such an awesome dog! We don't hunt, we were just looking for a family pet. Reagan exceeded our expectations...in fact, we love him so much that last year we drove all the way from Nashville to buy another Vizsla pup from the Burgers. Trooper is almost a year old and is such a great dog!! These dogs are so smart and so easy to train! Reagan and Trooper know hand signals as well as voice commands. They are easily motivated, eager to learn, and so incredibly smart.
We saw, first hand, how well the Burgers care for their dogs. In fact, getting to know their dogs was a huge reason that we decided to buy pups from their litters.
Do your homework...Vizslas are an awesome breed, they require a lot of exercise and attention. Go visit Bryan and Deborah and spend some time with their awesome dogs...I guarantee you will want to take one (or two) home with you.
Submitted by: Kaitlyn on May 14, 2019
Everything about the process of getting our puppy this spring has been phenomenal. The Burgers sent pictures and videos twice daily which helped make us more excited to bring our girl home. She came to us already knowing how to sit and learning to walk on a leash. She is happy and healthy and we have gotten many comments on how gorgeous she is. I hope the Burgers continue to breed for many years so we can get a future pup from them! I highly recommend this breeder because of their genuine love for their dogs and great breeding program that is not "snooty."
Submitted by: Nate on May 13, 2019
I've had the pleasure of hunting behind Whiskey from his first hunt to his latest. He has the drive and steadiness you want to see in a young dog and will finish out nicely. I had the pleasure of hunting behind Ruby for the first time this past season and it was a blast. She had a great nose and excellent control. The puppies will make a great hunting companion or a perfect house dog.
Submit your testimonial