Springer Spaniel Ranch - Texas English Springer Spaniel, Springer Spaniel Breeders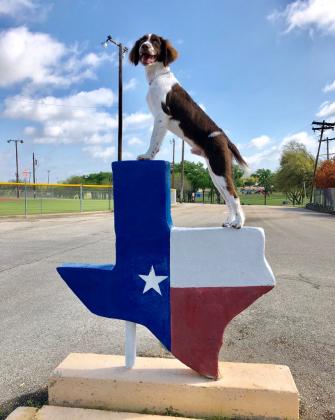 About Springer Spaniel Ranch
At Springer Spaniel Ranch, we not only breed some of the highest quality hunting dogs, but also great companions. All of our English Springer Spaniels are bred from some of the purest breeds and proven hunting dogs WITH STRONG ENGLISH HISTORIES. LOOK AT OUR PEDIGREE and see HOW MANY FIELD CHAMPIONS (FC & FTCH) are in our bloodlines. Our Parents are trained in upland and waterfowl bird hunting. The Parents of these puppies hunt South Dakota hunting Pheasants and Quail in Texas.

Our sire side genetics are from the UK and was brought into the US at a cost of over $30,000 and the Damn to this liter is from many generations of champions as you can see in the pedigree.

We believe that hunting is not a sport, but an actual way of life. We are passionate hunters that understand the needs and qualities that make for the perfect hunting dog and strive to deliver nothing but the best. Our English Springer Spaniels are proven champions that have the same passion and instincts for hunting that you have.

We have many clients over the years that never hunted their Springer's and just enjoy their extreme intellect and companionship as well as providing a sense of protection on rare occasions as I have gathered from the many stories from clients over the years. We have our pups in extreme high net worth homes all the way down to one of my favorite clients who is a grocery sacker with two of our dogs that travel to Canada, South America and Rockport and that are constantly sending me wonderful photos and making me want to rethink my own life priorities. We also have large families with our Springer's and we have several elderly live alone individuals who rely on our Springer's for simple things like letting them know when the phone rings or when their alarm clock goes off or someone is at the door or driveway. We also have our genetics in various services areas including search and rescue, international airports and military work.

The English Springer Spaniel is considered to be the founding ancestor of modern Spaniels. The English Springer Spaniel is the largest of the Spaniel breeds. They were quite popular during the Renaissance period as they were ideal companions for the European hunter. This breed became popular in America in 1700. Currently, there are two distinct "types" of the English Springer Spaniel. Those bred for the conformation ring are referred to as "bench bred". Those that are bred for hunting and/or field trials are referred to as "field bred". The English Springer Spaniel excels not only in hunting on both land and water, but is an ideal family pet as well. They are a compact and medium sized breed, and are extremely athletic. Their expression is trusting, kind, and alert. This breed is hardy, sturdy, more quick and powerful than all other Spaniels. With proper training along with a little discipline and you can mold a English Springer Spaniels into almost any dog you need them to be.

Selecting a hunting dog can be a very difficult task. Here at Springer Spaniel Ranch we are avid hunters first and foremost and breeders occasionally. Your puppies are raised in a loving home with 10 kids who handle the puppies and help build the human bond from day 1 which is CRITICAL in their overall development, this fact alone makes a HUGE difference in our overall development of our puppies. We also raise your puppies in a climate controlled environment utilizing surgical blankets for bedding. The surgical blankets eliminate the intake of wood shavings, newspaper clippings etc. and assure you that your dog does not experience digestive system problems later in life due to the intake of these harmful bedding materials.

Ask the Following Questions to anyone you are thinking about purchasing a puppy from:

1) Are your puppies are raised in a loving home with 10 kids who handle the puppies and help build the human bond from day 1 which is CRITICAL in their overall development, this fact alone makes a HUGE difference in our overall development of our puppies.

2) Are your puppies raised in a climate controlled environment utilizing surgical blankets for bedding. The surgical blankets eliminate the intake of wood shavings, newspaper clippings etc. and assure you that your dog does not experience digestive system problems later in life due to the intake of these harmful bedding materials.

3) Are your puppies raised in an environment that is sanitized DAILY by kennel help and constantly monitored

4) Are your puppies birthed in a home environment (we usually are up all night with the mom in our laundry room)

5) Has your facility been inspected by a Vet

We pride ourselves on breeding some of the best English Springer Spaniel's while preserving the qualities of the breed. Springer Spaniel Ranch is a small kennel that prides itself on providing the very best. If you are looking for a high quality English Springer Spaniels, we look forward to hearing from you. Sire: Wyndhill Falcon (FTCH Clarburgh Art x Laganmill Candy) Other notables: FTCH Kenine Robb Of Rytex, FTCH Sunnybrea Siskin, FTW Badgercourt Gryphon, FTW Birtenshaw Bramble FTCH Windmillwodd Shot, FTW Bishwell Susan

Dam: Blue Pheasants Betsy (AFC Burcliffs Hobo MH x Highlander's Mirthful Miss MH) Other notables: FC NAFC Orions Arch Rival, AFC Tridon Spontaneus Combustion SH, AFC Bumper MC Quick SH, FC AFC Tridon Orion MS American Pie

Both parents belong to hunting a hunting family and are regularly hunted on upland game, including South Dakota, Kansas, West Texas and South Texas. Here are some references and we can provide you with contact info for them to actually talk to them.



Submitted By James Hamm https://www.linkedin.com/in/james-hamm-42350642 The genetics that your springer spaniels represent are the BEST genetics I have ever seen around the world and I have spent a lot of time in the UK around some incredible English lines. I have several decades in the military in the area of canine development and know dogs very well. I would like to commend you on your exceptional top shelf program! James Hamm, President International Association of Canine Professionals 254-449-6993 Note by James: I highly recommend James for your training needs, I have several clients that have been incredibly impressed with him and his program and he is located in central Texas and very easy to utilize!

Submitted by: George Harpole on May 04, 2017 Mr. and Mrs. Sprouse have some of the best Springer pups I've ever seen and quite possibly could have the best. From the start Mr. Sprouse was excellent in communication and his knowledge of the breed was outstanding. We were fortunate to have gotten a female Springer Spaniel from him and couldn't be happier with the pup. Her behavior was perfect right from the start and you could definitely tell she was well taken care of and loved by her owners. We couldn't have asked for a better experience and would without hesitation purchase again and/or recommend the Sprouse family to anyone looking for their forever companion. These Springer's are truly amazing dogs and you can't go wrong with one from Texas Gun Dog Ranch/Springer Spaniel Ranch.

Matt Martinez is a professional guide from the San Antonio area and he has seen and owned a lot of dogs over the years, however after hunting over our dogs he had to have one of ours and after getting his pup he has said "this pup is the most incredible dog I have ever seen or owned"…update as of Dec 2013 Matt and his fellow friends now have taken delivery of 6 of our puppies since 2010 and they are all great dogs. This deer season one of the Springer's actually helped track a wounded deer over 600 yards thru very heavy brush and found the deer. They said they would never have found the deer as there was no blood trail to follow.

Beverly and Mason Neely have 4 Springer's in their home and 3 of those came from us. They have recently had our bloodlines at a very famous trainer who was extremely impressed with our dogs. They love to talk to people about their Springer's and would be a good phone call to make as they are very familiar with our facilities and our dogs.

John Warren (the warren ranch is located on Warren Ranch Road near Waller on 290) at over 5000 acres they are the single largest landowner in Harris County Texas (the county where Houston is located) and he runs professional hunts at his place and he has hunted over our all of our dogs in Texas and in South Dakota and has been very impressed, he has been to our ranch and has seen our "top notch facilities" as he has called them

Matt rice is just a regular guy who has one of our pups and has also been to our ranch and has seen our facilities and has one of our pups… Here is what some of our other clients took the TIME to write about us

Submitted by: Luke Zechiel ….I recently purchased a male GSP from Texas Gun Dog Ranch, and I highly recommend this breeder to someone who is looking for an incredibly smart dog! Also, I purchased our pup out of state and was not sure what to think about the idea of getting a dog I have never been around. Now after having the pup for almost three weeks, I can testify that you are in good hands with James Sprouse. At 10 weeks my dog is responding consistently to the sit, stay, and here commands along with pointing to a wing on a stick and retrieving. I don't think it can get much better than that. Thanks again James!

Submitted by: Chris Johnson ….The dogs that come from Mr. Sprouse's ranch are definitely top notch! They are healthy, good looking dogs that perform like no other. I was shocked at how well they did during a recent pheasant hunt that I took with Mr. Sprouse.

Submitted by: D.A. Hughes III ….I had the pleasure of picking up my Springer Spaniel last March from Gun Dog Breeders, and I must say, since day one "Pakula" was a true hunter. I have taken her on several dove hunt in the past 6 months and she has done great on retrieving. I have hunted her several time on blue quail and she has do a great job finding them and pointing. I have been extremely pleased with my first dog ever to buy, James made the process as easy as possibly and I continue to stay in touch with him about Pakula's and my hunting experiences. Pakula just turned 1 on January 31st 2011, I can imagine how much better of a retriever and pointer she will become!

Submitted by: Nick I bought my female ESS on Tuesday. I was hesitant to trust any breeder on that I found on the internet, but I was delighted to find that James and his Springer Spaniel Ranch blew my expectations away. When I first contacted the breeder he was very responsive and conveyed that he cared for all his animals (they have llamas, goats, ducks, and more). I am a first time dog owner and I found that no matter how much research is done before hand, there is still a learning curve. James and his family helped me through the first days of the puppy being home and I am happy to say that the pup is happy, healthy, and a very fast learner. Springer Spaniel Ranch is a top notch breeder.

Submitted by: Logan nezat …..I just purchased a male English Springer Spaniel puppy from James Sprouse A couple of weeks ago at Texas Gun Dog Ranch in Normangee, Texas. I found James to be very friendly, responsive. So far he one of the smartest dogs I have ever owned and he is only 11 weeks old!!! Will be a great bird dog and family pet. I recommend Mr. James dogs to anyone.

Submitted by: Louis Oliver …..I have looked at a ton of dogs and i can honestly say that Mr. Sprouse has some of the best mannered and working dogs that I have seen. When you pull up to their ranch to look at a puppy you think your at their house but you are actually at their dog kennels. The Sprouse family is a very nice and loving family they have many animals and their is not one poor or sick looking animal on the farm everything from the 20 year old horse to the 3 day old puppy is in top health. I have had the pleasure to hunt with Mr. Sprouse and his dogs and I must say I was shocked. These dogs are top notch and one of a kind their puppies are beautiful and very smart. So to sum it all up when it comes time for me to purchase my German shorthair IT WILL BE through Mr. Sprouse and no one else.

Submitted by: Tania Kierklewski ….My husband and I recently purchased a female English Springer Spaniel puppy from James Sprouse at Texas Gun Dog Ranch in Normangee, Texas. I found James to be very friendly, responsive, and accessible throughout the process. His facility is top-notch, very clean, spacious, and professional. The dogs were all well-cared-for, and very well-socialized, with the help of his many children who give the puppies a lot of attention. We were able to meet both parents on site, which was really nice. I would recommend James and the Texas Gun Dog Ranch to anyone looking for a quality breeder.

Submitted by: Greg Gober …. If you do not do anything else you MUST visit the ranch and see the kennels. I have seen some nice houses in my days, however to arrive at what I thought was their house only to discover it was the doghouse just blew me away. Who builds a 6 figure house for dogs? Someone who cares for their animals obviously The kennel house is climate controlled, has pella double pane windows and is made of custom stone and hardi plank with spray in insulation. The interior of the 5 dog runs is covered in the white wall coverings like a commercial kitchen for easy cleaning and control of bacteria and contains a walk in shower for the dogs. The kennels were spotless due to the fact that they have a full time person caring for their animals which were all family pets and breeding is a special occasion for them. I would HIGHLY RECOMMEND this kennel for a puppy.

Susan G, Houston If I would have called James first I could have saved so much time searching. Our Greta was delivered the next day and she is now 3 years old and incredible!

Mark S. West University, TX I was very apprehensive about buying over the internet, after 5 min on the phone and checking their incredible references I placed a small deposit and the pup was actually delivered the same day as James was in route to South Houston that day. Buster is an incredible dog and huge part of my life. I was very fortunate to find Springer Spaniel Ranch.


Mario G. San Antonio, TX We had talked to several breeders before calling Springer Spaniel Ranch and within a few minutes of talking to James I could not believe the amount of very important information I received from him. While we did have to wait several months on the puppy waiting list it was very much worth the wait. Our family is EXTREMELY impressed with our highly intelligent pup. My sister has since purchased one also and now my brother is on the waiting list for a puppy. I am glad I made the decision to pickup the phone and call as Millie our pup will be with us for many many years and the right breeder makes all the difference in the world.


Melissa S. Austin, TX My husband asked me to research some puppy options and I was quite frankly overwhelmed with all of the information on the internet, I started calling a few breeders and needless to say I was even more overwhelmed and concerned after talking to 2 of them and not able to reach Springer Spaniel Ranch. Later that day James called me from Springer Spaniel Ranch and within a few minutes of talking to him, I knew this was the right breeder. It's a hobby for the family as they own several other interests and breeding not their source of income which makes it a passion for them and a true love. You can definitely feel the true love and passion when you visit their incredible ranch estate and family and understand how the pups are raised with ten kids and well socialized.


Jeff The Woodlands, TX I want to congratulate Springer Spaniel Ranch on its incredible genetics! I knew genetics were important as we had a springer before from best of class English lines and I knew I wanted the English lines, looking around I was only finding good English genetics out of state or overseas and I did not want to ship a puppy because of the prevalence of Parvo in airports. Luckily a friend referred me to James at Springer Spaniel Ranch and he had exactly what I was looking for with 100 year old English lines that are proven. Upon arrival at their ranch I was immediately impressed with their estate of paved roads and large pecan orchards with springers chasing birds and squirrels from tree to tree. No confined dogs anywhere as they all had plenty of room for exercise. We knew immediately we had to have one of their pups and put down a deposit that day and our pup was delivered by James personally to us in The Woodlands a few months later. Thanks Springer Spaniel Ranch!


Doris Galveston, TX Our first springer Daisy we purchased from James is now 16 years old and doing well and we just purchased another puppy from James. The experience is wonderful working with James and Springer Spaniel ranch. They now have a lot more kids than they did 16 years ago and the new puppy seems even more socialized. The new puppy is sleeping with Daisy and has not had one accident in the house. We could have saved several hundred dollars by purchasing elsewhere, however the dogs produced by James and family are quite frankly worth twice as much as they charge as we have a once a year vet visit and that's it for Daisy while we have other friends who purchased elsewhere and their dog lasted 7 years and had several thousand in vet bills and a few years of anguish which was hardly worth the few hundred they saved. Thanks again James and Family for our Daisy and now Betsy!


Bill H. Lufkin, TX I want to tell people that the dogs from Springer Spaniel Ranch are top notch and very different than your average dog. Our Margaret dog we are convinced recently saved the life of our grandson when he wandered in front of a momma cow with a calf and was being threatened by the mom cow. Our Margaret dog placed herself in between our grandson and the mom cow and was barking and alerting us to the situation while at the same time backing the cow up away from our grandson in a different direction. She is incredibly alert and protective of our family and tells us when someone is coming up our long driveway before we even see or hear the car ourselves. Incredible dogs from James.


Heidi, Corpus Christi, TX As a single mom with a 13 year old son who wanted a puppy for many years I was dreading how the puppy would become mine in reality. Boy that was NOT THE CASE AT ALL, In reality Hank is very much both my sons and my dog and he is something I look forward to everyday and enjoy so much and we cherish every moment of my time with him. Hank is a real friend and companion and I wish I would have purchased him 5 years earlier as we have both been missing out on a wonderful companion.


Mike T. Lubbock, TX We have a commercial hunting operation in the panhandle and have some springers from up north that we have used for years. When we needed another dog we were referred to James at Springer Spaniel Ranch. We looked at his genetics and talked to a few clients of his and were very impressed. We purchased 2 pups and one year later I have to say they have far exceeded our expectations, incredible noses, very biddable, and will not give up on a retrieval of a wounded bird no matter how far. The pups from Springer Spaniel Ranch were natural hunters and we actually did not have to do any training in reality which saved us a lot of money and time. Compared to our other Springers we can really tell a difference as James's Springers perform to a very high degree of excellence always and never slack off. We will only purchase our dogs from James from now on and have actually now had several clients purchase from James with the same results as ours.



Hunting Dog Breeds Raised
English Springer Spaniel, Springer Spaniel
Breeder Contact Info
Testimonials (0)