Southern Hills Kennel - Texas English Cocker Spaniel, English Pointer, English Setter, Labrador Retriever Breeders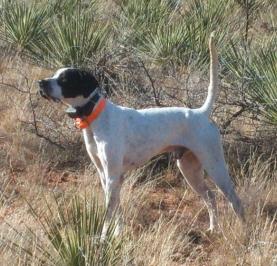 About Southern Hills Kennel
Here at "Southern Hills Kennel,"  Home of Bird Dog University in Abilene, Texas we raise and train English Pointers, English Setters, and English Cocker Spaniels. We board dogs for the public as well.  Training is $500.00 a month. Please feel free to contact us if we can be of service.  To our current customers, we thank you for your support & business.
Hunting Dog Breeds Raised
English Cocker Spaniel, English Pointer, English Setter, Labrador Retriever
Additional Services
Hunting, Training, Stud Services, Boarding
Breeder Contact Info
Testimonials (5)
Submitted by: JT Thomasson on Oct 05, 2014
Even though it was cut extremely short because I was relocated only after a few days to a completely different part of the country, my experience with Brent and his training was wonderful. I was given pictures and sometimes even videos of my girls progress. This made it a lot easier to know on a daily basis how she was doing. I would recommend Brent to anyone out in the area. I really hate that I had to move to the east coast and cut her training with brent short but the level of customer service was wonderful.
Submitted by: Zack Winters on Nov 03, 2011
I have sent several dogs to Brent at SHK. He has not only trained my Springer Spaniel to be an amazing flush and retrieving dog but he trained a pointer (Rambo) and a Brittany. Not only is he an amazing trainer he also sells the best bird dogs Ive ever hunted behind or seen. I have a cocker from a litter he had last year and you wouldnt believe how amazing of a house dog/ hunter she has been! Brent can train a dog to do anything you need it to do. I always go to SHK for anything I ever need. Its a one stop shop for us Bird Hunters. Cant wait to get a Lab from SHK!!!
Submitted by: Mike Coffey on Jul 16, 2009
I have purchased several pointers from Southern Hills Kennel over the years and all have turned out to be great bird dogs. Brent will work with you and try his best to get you a dog that best fits your type of hunting I.E. close working or big running, they breed select males and females that are proven bird dogs that pass their genetics on to the pups.
Submitted by: George Fasciano on Jul 14, 2009
Four years ago I was a given a very special puppy from a girl friend. I used the Water Dog Book to train the puppy the best I could. I wanted to take my dog to the next level, and after recieving a recommendation to go to Southern Hills Kennels, I did. The dog truelly recieved training I could not give ex live pigeon etc. He truelly has become my champion, and the envy of all my friends and people I have hunted with. There is no better compliment to a dog owner, when people in the hunting field after watching my dog work try to buy him on the spot. He is my best friend and I owe his technique to Brent. You will not be displeased.
Submitted by: Ed and Ellen Gilbert on Jul 14, 2009
We needed a Pointer pup since our beloved "Bud" died-that place in our hearts had to be filled as only a good Pointer can. There were none to be had in the Nebraska area so we went on the net and found Souther Hills Kennel. We started writing Brent and felt like we made a friend. He did all he could to make our dream happen. Met with Ed in Oklahoma and our daughter decided to get one of the pups too! They have grown to be beautiful,obedient "best friends"! We are so thankful that we found Southern Hills Kennels to get our pups from.
Submit your testimonial