QuietWood Spinoni Italiani - Texas Spinone Italiano Breeders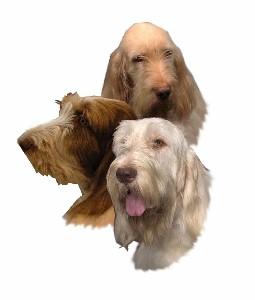 About QuietWood Spinoni Italiani
**We are expecting puppies Sept 2022** QuietWood is the home of Ch QuietWood Tiramisu, the Best of Breed winner at Westminster 2007.� Her mother, our foundation bitch "Candy," was one of the top producing Spinone bitches in the country�with over a dozen conformation champions.� But our Spins are not just pretty faces.� They are very driven to find birds and we're proud of our dogs' accomplishments in the field as well as the show ring.� Most important of all, our dogs make excellent family companions.� We are located northwest of Houston, Texas.
We occasionally have puppies or older dogs available for sale. We welcome visitors to meet our dogs. We are always available to answer questions about the breed or our specific dogs. If we don't have puppies available, we can recommend other breeders that might have puppies.
We also are available to consult on training issues.

Hunting Dog Breeds Raised
Spinone Italiano
Additional Services
Training, Stud Services
Breeder Contact Info
Our Pedigrees
Testimonials (2)
Submitted by: George Hoelzel on Jul 26, 2017
I am an avid hunter who over the last 70 years has owned a variety of hunting breeds including Beagles, Britts, English Pointers and labs. None of these dogs compare to the Spinone when it comes to overall personality, intelligence and hunting ability. I have had the opportunity to own 2 dogs from Quiet Woods a male and a female and both were outstanding hunters as well loving and affectionate members of our family. The Spinone is the most under rated breed in the hunter category.
Submitted by: Jackie Spiars on Jul 30, 2009
I got my first Spinone from Bonnie and she has been a wonderful dog. Although I don't hunt, I agree with Bonnie that it is important to ensure these wonderful dogs maintain their incredible natural ability. We live in the country and our dog from Bonnie is obviously very birdy. I've seen Bonnie's dogs display great natural ability. My girl's mother passed her first leg of her AKC Jr Hunter title on the first attempt although she had no training whatsoever. And I've watched each generation of Bonnie's dogs continue to display incredible ability to search for and find birds. They are also very loving companions.
Submit your testimonial