Phantom Kennels - Texas English Pointer, Labrador Retriever Breeders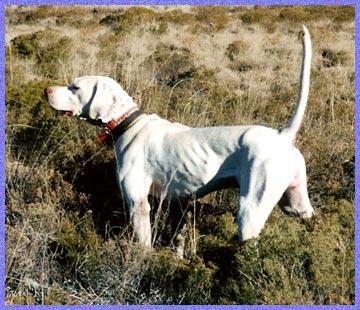 About Phantom Kennels
Home of Ch. Phantom's Wizard and many other Champion sired Phantom bird dogs. Over the years, our dogs have won many field trials such as the National Open Pheasant Championship, All-America Prairie Championship, National Am. Derby Championship, All-America Open Shooting Dog Championship, Masters Open Championship, Oklahoma Shooting Dog of the Year, Texas Shooting Dog of the Year, Texas Open Derby of the Year, and Runner-up at the Texas Championship. We have been breeding Field Champion bred English Pointers for over 35 years and our dogs have been hunting upland game birds in all lower 48 states, Canada, Mexico, and Europe. Our dogs are developed in the heart of some of the best quail hunting in the nation!Breeding and training Bird Dogs is our full-time business. We offer a complete training program that includes steady-to-wing and shot and retrieving for all sporting breeds in the heart of some of the best wild quail hunting in the world.
Hunting Dog Breeds Raised
English Pointer, Labrador Retriever
Additional Services
Hunting, Training, Stud Services, Boarding
Breeder Contact Info
Our Pedigrees
Testimonials (4)
Submitted by: Stefan Ivanescu on May 11, 2011
Dan is a standup guy! Had a great experience with a visit to his kennels. He runs a very clean and caring kennel with some great bird dogs! I got a Rebel Joe pup that is about 5 months now and is as birdy and naturally talented as I've encountered to date!!! No training yet and he has locked up on wild birds on several ocassions with no budge. Perfect temperment when not in the field and all business when he's out for birds. Dan was recommended by a buddy and after hunting over his dog I had to get an english for myself. Give him a try and you won't be dissappointed. Dan doesn't ask, nor mention reviews, but I had such a good experience that I wanted others to know. Great prices and service also. Looking forward to getting another pup soon!
Submitted by: Jamisen E. Hancock on Dec 04, 2007
When I bought my first English Pointer, I was looking for a hunting dog with field trial class, and one who was tough and could handle hard-hunting in West Texas and the Panhandle. 8+ years later, I am still buying dogs from Phantom Kennels, due to their dedication to breeding and raising high quality dogs. With my dogs, I have guided several hunts that were televised, won NSTRA field trials, and have had several dogs become NSTRA Champions. Dan is very honest, and has been great to work with. For those who are looking for a high-quality dog, I sincerely recommend Phantom Kennels.
Submitted by: Bradley Bates on Nov 26, 2007
One thing I have learned in 35 years of bird hunting in West Texas is if I do my part, the rest is controlled by genetics.
I have been buying pups from Phantom Kennels and my cull rate is zero! Phantom Kennels continues to research for the very best genetics out of National Championship (three hour endurance), classy bird finders.
I have used Phantom Kennels for training services. They train them the way I like them and I am satisfied with the results.
Phantom Kennels has always treated me fairly and their business ethics are second to none. I sincerely reccomend you consider them.
Submitted by: W.L. Jaggars on Nov 25, 2007
I am on my 10th pointer from Phantom Kennels. I have tested all of his bloodlines and have found all have made great gundogs. I have 3 in the works for next season with lots of potential. If you are looking for a hunting companion or field trial dog, call Dan and he will fix you up.
W.L. Jaggars
Submit your testimonial