KZR Labradors - Texas American Brittany, German Shorthaired Pointer, Labrador Retriever Breeders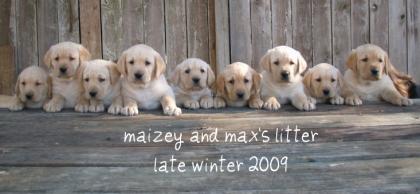 About KZR Labradors
KZR Labradors is located in Boerne, Tx.
A personal business, in conjunction with Ryckman Kennels, Inc.
Currently, we are breeding for the AKC standard, dually outstanding pet and hunting Labrador Retrievers. In a lab it is important to have the best of both worlds, and at KZR Labs that is the goal we are breeding for. Our labs are now going to also be trained as search and rescue and cadaver dogs for the South Texas K9 Search and Rescue.
The parents of the puppies bred here are picked, trained and observed for quite awhile, us allowing only distinguishable examples of Lab, in body and mind into our breeding program.
----------------------------------------------------
Max and Maizey's Litter
Pups Available on Feb. 14, 2009
Four Males and Five Females, all yellow
Females: $700
Males: $650
Please make a $100 deposit to hold your new puppy.
Shipping is available thru the continental United States.
They are going fast, put down your deposit quick!
Hunting Dog Breeds Raised
American Brittany, German Shorthaired Pointer, Labrador Retriever
Additional Services
Training, Boarding
Breeder Contact Info
Testimonials (0)