Fowl Play Gundogs - Texas American Brittany, Boykin Spaniel, English Pointer, German Shorthaired Pointer, Labrador Retriever Breeders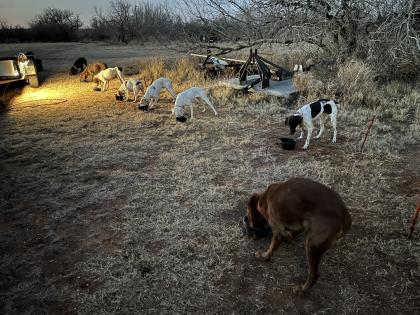 About Fowl Play Gundogs
Search Fowlplaygundogs on Instagram & Facebook for additional pictures. We are a Small gun dog breeding operation. We occasionally will sell a finished / started dog.
Hunting Dog Breeds Raised
American Brittany, Boykin Spaniel, English Pointer, German Shorthaired Pointer, Labrador Retriever
Breeder Contact Info
Puppies for sale
Our Pedigrees
Testimonials (3)
Submitted by: Bryan M. on Dec 17, 2021
I met Casey in early 2016. I like to think I was a bit of a Guinea pig for him. I was on a several month long search for legitimate hunting dog. After hitting it off, we both decided to take a gamble on one another, and man did it ever pay off for us. Finn has turned out to be more dog than I could have ever hoped for. At 5 years old, he's retrieved well over 2000 birds (I'm an avid hunter, but it's not my full time gig). We breezed through our AKC Senior title, but had to cut our Master Hunter excursion short due to a growing family and work. Finn is an amazing family dog, and is as gentle as could be. He is a Jekyll and Hyde type of animal. High drive in the field, yet mellow and relaxed in the home.
Casey is a mad scientist, and dog breeding is his laboratory. He takes pride in his animals, and approaches each breeding with a surgical-like approach: Highly calculated and well vetted. I would recommend him to anyone.
Submitted by: Cheyenne De Luna on Mar 26, 2018
I purchased a Boykin spaniel puppy from fowl play gundogs and he is the smartest dog I've ever owned ! He is very well behaved and has the best personality according to me and everyone who meets him! He has the urge to chase birds and rabbits and I cannot wait to see how he performs this dove/quail season ! So satisfied with the service I have received from this breeder and look forward to buying more dogs from him in the near future!
Submitted by: Chris Janecek on Apr 27, 2017
I was referred to Fowl Play Gundogs from a close friend, and now I owe them dearly!! We couldn't be happier!
I can't thank the guys on Fowl Play enough. The new joy of the family is healthy and beautiful. He has a wonderful temperament with other animals and all people. He has yet to meet someone he doesn't like.
He has taken to his training like a duck to water, and easily listens and takes commands. We couldn't be happier in our search for a new family member and hunting buddy than we are after having found him at Fowl Play Gundogs.
He is easily one of the best looking Yellow Labs I have ever seen (yes, I am biased), but you can't go wrong dealing with Corey and the great people at Fowl Play Gundogs.
Submit your testimonial