Flying B Kennels - Texas Chesapeake Bay Retriever Breeders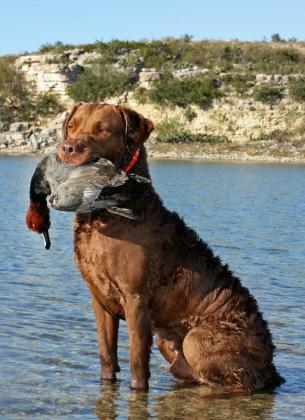 About Flying B Kennels
WE BREED LARGE CHES.ALL PUPPIES ARE SHOT OVER ALL PARENTS ARE HUNTED . WE SHIP OUT OF STATE., STUD SERVICE  AVAILABLE. TO APPROVED BITCHES.WHY BUY FROM THE REST ,WHEN YOU CAN BUY FROM THE BEST .CHECK OUT OUR WEB SITE AT FLYINGBKENNEL.COM  WE REQUIRE A $100.00 DEPOSIT ON ALL PUPPIES SOLD  WE ASK $800.00. FOR  FEMALES OR MALES  WE ALSO SHIP OUT OF STATE.
Hunting Dog Breeds Raised
Chesapeake Bay Retriever
Additional Services
Hunting, Stud Services
Breeder Contact Info
Testimonials (4)
Submitted by: Robert Denton on Aug 10, 2016
Augustus will be 3 in September has fetched over 800 ducks, pheasants and doves, he has the heart of a Cheasapeake for sure. Very saisfied with Frank's service and breeding. Gus is out of Mocha and by Willie, he is the most handsome of the 3 chessies I have owns and most athletic. Remember Chesapeakes are probably not for 1st time dog owners.
Submitted by: Alex Mossler on Aug 02, 2015
I lost Marshall about two months ago and miss him everyday. He was given to me by my best friend almost 8 years ago and purchased from Frank. This dog was the best dog ever. He had every positive trait you would expect from a well bred Chessie and the best friend a guy could ask for. I am planning on buying another from Frank when I can an would highly recommend Frank and Flying B Kennels to anyone looking for an excellent Chesapeake Bay Retriever.
Submitted by: Lanny Murdock on Nov 30, 2013
We got Dusty almost 3 years ago from Flying B and have enjoyed him. His is a large dog, but very sweet. He does have blonde traits. We love him and he loves us. Dusty is our 4th chessy and the lovingest.
Submitted by: pete gonzales on Jul 07, 2013
We purchased our first chessie for flying b kennels this pass weekend and couldn't be happier with the breeder. After doing a lot of research on the breed and breeders we got more then what we expected. Franklin was awsome to work with and very informative. Since I wasn't able to make the trip from Dallas to San Antonio do to my work schedule, I had enough trust in frank after speaking with him to pick out our chessie and boy did hit the nail on the head in choosing the best pup for our family. I would highly recommend franklin and flying b kennels to anyone in the market for a chessie. I couldn't thank frank any more for his services
-Pete
Submit your testimonial