We have raised a few litters of labs over the last 10 years and are currently developing our line of Brittanys. Very small with only an occasional litter when everything comes together at the right time. We want our dogs to be excellent companions as well as hunters. All are raised in the house for the first six months or so and then spend time outside in kennels and in at night to visit with the family.
Teal
Currently we have three females, Teal, Covey, and Bonnie and one male, Pivo. We hunt our dogs on quail and pheasants in Texas, pheasants in Iowa, chukar ,huns, and quail in Idaho. I also use 'em during dove season and Teal is a great duck dog.
Myself with Teal and a limit of whitewings
Our dogs have Nolans Last Bullet,Gambler's Ace In The Hole, Tequila's Joker and Shambo's Dark Shadow bloodlines.
Pivo
Pivo is sired by 3X NSTRA Ch Buddy's Buster II and his grand daddys are Nolan's Last Bullet and Tequila's Joker. I started Pivo in NSTRA Spring '09 He has good wheels and a great personality with lots of drive and birdiness
Covey and Zach with a Covey

limit of Texas pheasants
Covey is Nolan's Last Bullet and Gambler's Ace In The Hole. She is very quick and athletic, very birdy and loves the family. Her hips are OFA Good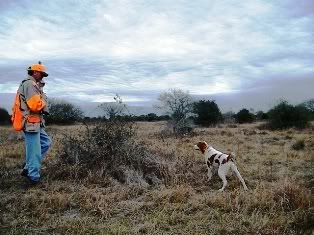 Teal on some Texas quail

Teal is Nolan's Last Bullet and Hummer breeding, Teal is my best all around dog from couch potato to the quail pastures to the dove fields and in the duck blind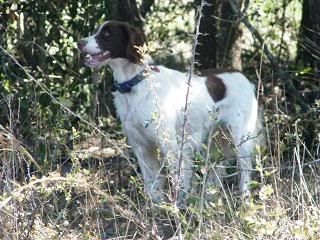 Bonnie
Bonnie is out of NSTRA Ch Reyna's Osprey who is Windswepts Clay Bullet and Nolan's Last Bullet bred and Shambo's Dark Shadow. She is showing a lot of promise. Very solid and a natural backer and excellent retriever as well as a loving companion .
This is Tara, one of our pups in Arizona at 18 weeks

7 month old Sadie, is one of our pups in Lubbock, TX




One of our Pivo/Bonnie pups, Mickey, in Montana.




Mickey with his first Sharptails at 6 months of age






Submitted by: Tom on Nov 28, 2010
I picked up my pup Mickey this past July from Bobby and took him home to Montana. He is a fun very active dog that is quickly learning the ropes of wild bird hunting.
Mickey is a fun, happy pup that loves to run. He is also learning to love the snow! He already knows when the vest and bell collar come out it is time to hunt.
Submitted by: Jay Harnish on Jun 08, 2010
We have recently picked up our pup (Buff's Pivo Attaboy Gus) what a pup. Healthy, fearless, and bonded very quickly with myself. He's dead curious about everything and anybody. While we built a new pigeon coop, nailing guns, saws, compressor meant nothing, Gus was right there with every step. He's already responses to my whistle and the vet said he was in great health yesterday during shot time.
Both Rhonda and I don't have enough good words for Bobby and his wife Carla. They have treated us royale and put up with tons of questions, emails. We drove over 800 miles to see Gus when he was 1 week and again to pick him up. Every mile was worth it.
If your looking for a top notch team, great bloodlines, and dogs that really do hunt we recommend Bobby & Carla Buff.
Jay & Rhonda Harnish
Denison, Texas
Submitted by: Kellyann Boles on Dec 29, 2009
Sadie has turned into quite the bird dog! Our friends invite Marshall hunting only if he brings Sadie along. It's pretty flattering. And she's a wonderful companion for me at home. You were saying on your website how Teal goes from couch potato to hunting extraordiaire- well, that's Sadie! At this very moment she's asleep on my lap!! I have some recent picture of her in action if you'd like them.
Thanks so much for doing such a good job with your dogs!! We will use you again and have told our friends about yall!!!
Blessings,
Kellyann Boles
Submitted by: Kellyann Boles on Jun 04, 2009
Hello Bobby,
I hope all is well with you and your family! We are great!! Life in Lubbock is good, and Sadie has just nestled her way into our family! Everyone loves her, which is easy to understand. She's a great dog-a little sassy and feisty, but great. Hunter, our other dog, loves her, they're buddies. She obeys well and follows me like a shadow. We got her spayed a few weeks ago and she's recovered beautifully!!
Thanks again for everything!!
Kellyann and Marshall Boles
Submitted by: Joel Turner on Jun 04, 2009
I found Bobby's puppies through a friend of mine, and got one of his males, Briley. He is a very intelligent and energetic dog, and even when standing in the backyard, he is focused on birds. He watches them fly in the sky and runs around the inside of the fence, as if he could catch them! I'm looking forward to taking him out to some places here in Tennessee this fall. Bobby was great to deal with, and seems to have a great blood line...I definately will purchase from him again. Thanks!
Submitted by: Michelle & Kyle Beeson on Jan 18, 2009
My husband searched for months for the perfect puppy. We found our Kadee, a Brittany! She is a quick learner & is already fetching stuffed birds with ease. She was 9 lbs 13 oz at her first Vet visit & in perfect health. She is currently 11 wks. She loves the beach, long walks & her grandparents! Bobby was great about answering all my tough questions about a first time puppy owner & responded quickly considering it was the holidays!
Thanks.
Submitted by: Arlette Hennessey on Jan 12, 2009
I just had the pleasure connecting family here in AZ with one of Bobby's pups and then even being able to assist in the transporting the pup to her new home
What a smart energetic friendly socialized pup she is...Wish I had more time and more room in my kennels
great job on the pups.
Submitted by: Lindy Sheehey on Jan 12, 2009
I recently purchased a female pup from Bobby. Our little Tara is amazing! She has beautiful strong body form and is already demonstrating her pointing style. She is incredibly confident, outgoing and not at all afraid of loud noises. At 11 weeks she was already sitting for treats, retrieving toys, and proven to be a quick study. Bobby has done an excellent job of raising loving, confident little Brittany's.
Submit your testimonial