FireMark Brittany Kennel - Texas American Brittany Breeders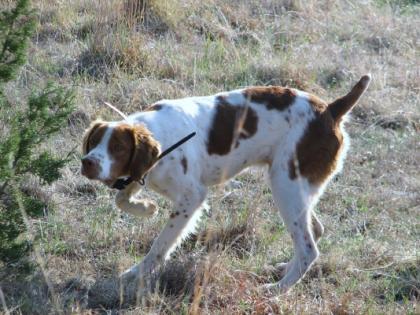 About FireMark Brittany Kennel
Breeding high quality pups for hunters from the Nolan's Last Bullet, Perry's Rustic Prince, Jim De Bob's Sparks A Dan D, Blaze and Lobo's Evil Roy, Beans Blaze, and Microdot bloodlines. We have recently introduced FC AFC Tejas Iron Mike to our line and have been very impressed with the pups thus far. We have more recently added AFC FC Highpoint Blazin'Lamont pedigree into our line and have been very excited with the pups so far.We are a small kennel and breed only 2 maybe 3 litters per year. We are expanding our training grounds and will be moving our kennels soon to a new 50 acre location. Update, we have moved to Paige and currently working on establish ourselves here.

Hunting Dog Breeds Raised
American Brittany
Additional Services
Stud Services
Breeder Contact Info
Our Pedigrees
Testimonials (1)
Submitted by: Chris Reeves on May 26, 2011
Firemark kennels are awesome! Valerie and the rest of the folks there are extremely knowledgeable and affectionate breeders. They love what they do and are raising quality dogs.
We bought our Dakota, a liver and white Brittany, from them a few years ago. She's grown in to a fine hunter trained on quail, partridge, and pheasant. Dakota is also a very affectionate and protective family dog. Not only that but she's fit as a fiddle to boot, no signs of any disease or hip displasia common to the breed.
Whether you're looking for a show, hunting, or just a family pooch, Firemark rocks. I can't recommend them enough.
Submit your testimonial