CreekSide Kennel - Texas Vizsla Breeders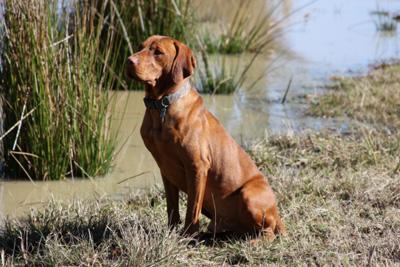 About CreekSide Kennel
We are a very small family owned and operated kennel with over 11 years experience. Home of Europe's Hungarian Hunting Champion Luppa-Vadasz Nomad AV,CACIT,VAV,HDGY known in our home as Nador registered MEOE Budapest and AKC. Home to Deny Lovely Face registered SKJ and AKC, daughter of Slovakian Vizsla ALAN- ICH, CACIT,R.CACT,Grand Champion SR Champion, SVEV, KV, 2xCAJC, 16xCAC, 2xBOB, CACA, 7xCACIB, 4xR.CACIB, CWC.. Owner of Indy z Nanikinho dvora, SKJ and AKC a son of ALAN as well. Vizsla are our specialty with an occassional German Shorthaired Pointer litter. We pride ourselves in the fact that we are referral based and we do not under any circumstance cage our puppies and or dogs. Our dogs are in an a/c, heated facility with access to our 80 acres when they are ready to play. We are avid hunters and cater to hunters alike as well as therapists, state canine and law enforcement and other entities that request our puppies. We do not sell to breeders, dog brokers or pet shops but we do ship our puppies Worldwide. References available from past puppy families.
Hunting Dog Breeds Raised
Vizsla
Additional Services
Boarding
Breeder Contact Info
Testimonials (2)
Submitted by: Capt. Adam Sokol on Aug 07, 2011
I have both a German Shorthair(2 1/2 yrs old, 68lbs) and a Vizsla (2 yrs old, 52 lbs) from Creekside Kennels. Working with the Munoz family was a great experience and in return I found two great friends and two great dogs for hunting companions. I have never owned more "birdier" dogs. Both dogs are amazing in the water while hunting fowl or in the field retrieving dove, and unbeatable on pointing and retrieving while hunting Quail, Chuckar and Pheasant. These breeds are considered all-purpose for a reason. Creekside Kennels is immaculate and their knowledge of their dogs is out standing. They provide a service that lasts long after you take your puppy home from the kennel. I will never buy a dog from another kennel again. The Munoz family will be my life long friends and my lifetime dog breeders. I highly recommend Creekside to anyone looking for a well bred, bird hunting machine.
Submitted by: Sean Eynon on Jul 27, 2011
I had been looking for a dog for over 2 years and looked at every hunting dog known to man. I then narrowed my search to a vizsla after reading about them on a fishing forum. The search for the right breeder became my mission and for months I called breeders and visited breeders. I was referred to Creekside Kennels by a breeder who said she breed dogs aimed at hunting and that is what I wanted. I know have the most beautiful Viszla and would not trade him for anything. He is six months old and will point and retrieve better then any other dog I have ever owned. We are very happy with creekside kennels and will recommend them to anyone that is interested in buying a dog from a breeder who knows her breed from head to toe and is available to talk to anytime you have questions. Creekside is the only place I will ever buy a dog from. Thank you Creekside
Submit your testimonial