Cooper Labs - Texas Labrador Retriever Breeders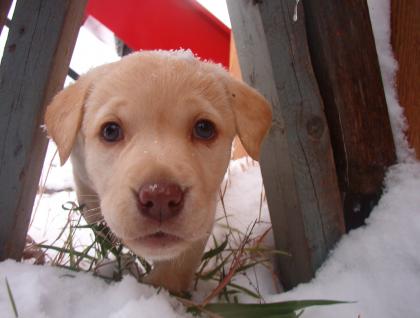 About Cooper Labs
Yellow, Chocolate, Black Lab Puppies
To view pictures of past litters go to myspace.com and search for Cooper_Labs_Puppies....or you can click our website link below.
Our Picture Logo Is From A Former Litter
Seeing is believing and the parents are on site. Our dogs do not last long. References are available to serious buyers only.
Beautiful Labs from the Makers of
Charlie, Sugar and the Master Creator
The following Care is always provided.
All puppies

receive

the following care prior to sell
1. Puppies are wormed twice
2. Recive first Round of Shots
3.
Dew Claws removed
Cost: Call for pricing
Puppies back ground/linage
Chocolate Sire (Light Cinnamon Chocolate) and Yellow Dame
Both have black in there family line.
It would be worth the drive from D/FW, Abilene, San Angelo, Austin, Waco or San Antonio Houston areas. Call us at (325) 200-7324 or email me at bcooper767@yahoo.com Our dogs are healthy and raised with a lot of love and care well socialized and raised on our 11 acres in Central Texas.
Our puppies have fared well in obedience school and hunting schools are perfect for those wanting a family pet or for the hunting enthusiasts.
We will email pictures to serious buyers. You will not be disappointed. If you

prefer

do a search at myspace.com search for Cooper_Labs_Puppies
We keep our prices low for the pure pleasure of providing great dogs to great families and

families

seeking a sporting Lab. More details to serious buyers.
Hunting Dog Breeds Raised
Labrador Retriever
Breeder Contact Info
Testimonials (1)
Submitted by: Sharon Holt on Jun 13, 2008
We drove to the Cooper's from Austin, Tx and it was well worth the trip. Our blond haired, green eyed little boy is beautiful, sweet, so relaxed and a total ham. We bought this adorable lab for our 16 year old daughter and she is totally in love. They are already the best of friends. Even my husband, who is not a "big dog" lover, is so impressed with the newest family member!! Thanks so much to the Cooper family for their efforts to raise quality Labs and wonderful family pets.
Submit your testimonial