Bozy's Vizslas - Texas Vizsla Breeders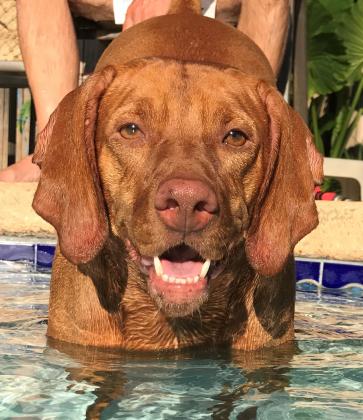 About Bozy's Vizslas
AKC register family raised Vizsla pups. We only have 1-2 litters a year. We are very hands on from the time they take their first breath till they go home with you. The pups are vet-checked and will have their dew claws removed, about 3 deworming and their tails docked. If you have any questions, please do not hesitate to call or email. We have a litter now, born June 14, 2022. Reduced Price to sale!
Hunting Dog Breeds Raised
Vizsla
Breeder Contact Info
Testimonials (6)
Submitted by: Felipe & Sarah on Nov 16, 2016
Don and Linda were great to work with. Our Pippa is about 8 months now and has been a wonderful companion, with a great personality. She does well both out in the field and in the city. We have taken her to several vizsla meetups around town and even long time vizsla owners comment on how she's the best looking vizsla they have seen in a long time and we recommend Don and Linda to everyone who asks. We will be back for another when available after Pippa hits the year mark.
Submitted by: Randy & Tori Hollas on Jun 25, 2016
Our Lexi is a little over 3 months old now and has the best personality. She's a kind, gentle soul that loves everyone. She's also super easy to train and has picked up a lot in our short time together. We highly recommend this breeder if you are looking for a quality Vizsla pup.
Submitted by: Erica Baker & Lewis Cummings on May 23, 2016
We got Roscoe from Bozy's Vizslas and could not be any happier with our puppy. He is very healthy, wonderfully sweet, playful, cuddly and great with our kids! We will definitely return to these breeders when we are ready for another. It was a flawless experience. They were helpful in preparing us for our puppy and very kind people. Thank you!
Submitted by: Rebecca on Dec 04, 2015
We have purchased two Vizslas from Don and Linda and could not be more pleased! The pups were healthy, handsome, and playful- they both have great personalities. Would highly recommend!
Submitted by: Patricia Smith on Mar 13, 2014
We picked up our puppy in February. She is a little, loving bundle of energy. She already knows how to sit, shake, and stay. We get compliments on how beautiful she is everywhere we go. Bozy's was so easy to work with.
Submitted by: Michelle on Jul 11, 2013
I got a male Vizsla from Don and Linda in January of this year. He is 6 month old now and is wonderful!! I get complements on him everywhere I go and he is soooo sweet and such a loving companion. I would recommend them as breeders to anyone.
Submit your testimonial