Blueridge Brittany Kennels - Texas American Brittany Breeders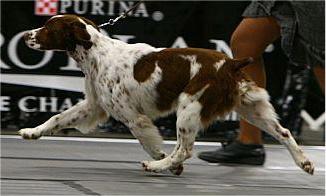 About Blueridge Brittany Kennels
We have a full training facility for both field and show training. We campaign on the midwest field trial circuit from October to April and then we hit the show circuit. August and September are spent in the Sandhills of Nebraska, for summer camp. We believe in the dual dog and we train and breed toward that purpose
Hunting Dog Breeds Raised
American Brittany
Additional Services
Training, Stud Services
Breeder Contact Info
Our Pedigrees
Testimonials (4)
Submitted by: RICK AND NAN CRITES on Apr 19, 2017
David is the only trainer and breeder we will send our dogs to. We have co-bred several litters and we have had him show, field trial and train our dogs. Thanks to his expertise in all areas we now have a Dual Champion, Silver GCH, Bronze GCH and numerous champions that we own. Thank you, David Downing!
Submitted by: Joshua Elkins on Jan 01, 2013
We purchased Tripp from Blueridge earlier this year. He is about 9 months old now, has an awesome nose, and has proven great at retrieving. He is also very protective of his turf while really good with kids. He was a little gun shy as a pup but quickly got over it. We are very pleased with Tripp
Submitted by: Jon Lee on Feb 17, 2010
I have purchased 2 brittany puppies from Dave and am very pleased with his breeding program. He is a genuine dog man and an excellent bird dog trainer. He is also one of the few brittany handlers that is doing show and field work. Which comes in real handy if you are wanting to own a dual champion brittany dog. I have no reservations in recommending this kennel and trainer/handler. I drove 12 hours to meet him at a field trial in Southeastern AZ and was I glad I did.
Jon Lee - Annabella Brittany Kennels
www.AnnabellaKennels.com
Submitted by: Faye Carroll on Jun 30, 2009
david. i wanted to give you a report on tag the puppy i got from you in mexia. he is one heck of a dog. the second time i took him to freer just to get him acustomed to the field and the gun. he found a bird. my other brittney point a covey i flushed them and shot a 410 in the air just to see what tag would do. to make along story short he by himself found a pair and pointed them. then found another single. this was dec 5 he wasn't even 6mos. i had not planned on hunting him with anyone but myself (you know how young dogs are). anyway i told my wife that i was considering taking him on a hunt i was invited on with a friend and his son. i told my wife they were friends and would understand and i could always crate him if he got to wild. we went jan2,3,4. tag did exceptionally well. he made every hunt. found coveys on his on. retreived a bird from thick south texas brush that we didn't know for sure that we had killed. we got 23 birds that weekend and he only busted one covey.and remember he is not yet 6 months old. i took him and every hunt after that and everyone was amazed at what he was doing at such a young age. i beleive he had 17 total days of hunting in his first season and we shot 110(all wild) birds over him and his bracemate. needless to say i'm more than pleased with tag. i've had brittanies since 1973 and he's one of the smartest i've had. he loves to hunt, loves me, loves my wife, and loves my other two brits. obviously my wife loves him too just like you predicted. i always tell him "tag your a lucky dog, but i.m a lucky hunter" if you ever need a recommendation about you dogs feel free to give them my number i've been hunting quail in south texas
Submit your testimonial