Wolf River Kennels - Tennessee American Brittany, English Pointer, Epagneul Breton, French Brittany Spaniel, Labrador Retriever Breeders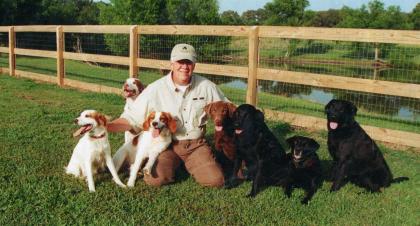 About Wolf River Kennels
During the last several years we've been able to expand our breeds by adding the Pointer to our already top line championship Brittanys and Labrador Retrievers.
We have 2 fine stud dogs that are available for service. FC Le Grand Tank du Fayette (Tank) is the top EB in North America. His success in competitive Field Trials is growing every year. He has won in both Shooting Dog and All Age stakes, with over 40 placements in both AKC and American Field. On the AB side, our FC Wolf River's Winning Ticket (Cash), has won primarily in All Age stakes. He has a strong, forward, smooth gait with a great nose. Both Tank and Cash have been hunted extensively on the Praires of Nebraska and So. Dakota and wild birds are their specialty. Two up coming young dogs, Wolf River's Sour Mash (DC Hi Proof Whizki X Wilco's Miss Emma), an AB and Wolf River's Terrible Tug (Tank X Blazn' Little Chick) are young dogs that are already field pointed and show All Age range and duribilty.
Our Pointer's are young, but very promising. Our newest prospect is Wolf River's Oflee Chipper. Young Chip is the grandson of Ch. Elhew Sinbad X Ch. Elhew Hannabell and the son of Ch. Covey Rise Offlee Amazin. Sinbad is on the All Age Circuit with Andy Daugherty. Hannabell was recently elected to the Bird Dog Hall Of Fame in Grand Junction, TN.
Our Labrador Retrievers are also young dogs that are just now starting to compete in Hunt Tests. But our Wild Wings Young Gun JH (Oakley) is starting out and this will be his first full year in the Blind. We expect great things. All our dogs are OFA. We will be glad to provide Pedigrees and Pictures at your request.
As a final note, if we aren't able to provide you with one of our pups, we'll help you locate a reputable breeder that has a puppy, young started or finished dog. Please give us a chance to assist.
We are located in Field Trial and Bird country near the historic Ames Plantation, home to the National Field Trial for Bird Dogs and the 2012 AKC Gun Dog Championship.
Hunting Dog Breeds Raised
American Brittany, English Pointer, Epagneul Breton, French Brittany Spaniel, Labrador Retriever
Additional Services
Stud Services, Boarding
Breeder Contact Info
Testimonials (5)
Submitted by: Stacy Stevenson on Nov 27, 2011
I am a K-9 officer with Tennessee Wildlife Resources Agency. I first met Ken 4 years ago when he donated a year and half old Lab(Wolf River Doll or Dolly as she is better known.)to our law enforcement program. Dolly not only won over the hearts of my family and I she was also able to complete TWRA certification immediately. Dolly is certified in man tracking, wildlife detection and evidence recovery. Her disposition both at home and work is unsurpassed and a testament to the quality of dogs raised by Ken at Wolf River Kennels. I would recommend Wolf River Kennels to anyone looking for a versatile, well mannered dog.
Submitted by: jim mayer on Oct 21, 2011
I have bird hunted since 1950 as a young observer with Dr. Frank Jeffetts 16 bird dogs in Helena Ar. Since then I have hunted Canada south. I bought Coco And got my friend Will to buy Buzz. these 2 brittanys live in our homes & business. When in the field they are unbeatable on grouse/quail&woodcock. Ken Blackmans great Character shows in his dogs training/hunting& calm traits. Treat your self to a visit to Ken Blackmans Kennel.Jim Mayer selling my business EST 1838 to hunt Coco More PH.2252935180
Submitted by: Tracy McDonald on Jul 07, 2007
I met Ken and Sue almost 4 years ago when they donated one of their favorite dogs, Shadow, to Tennessee Task Force 1, so he could become a FEMA Search and Rescue dog. He quickly received an advanced certification to become a Search and Rescue dog in the FEMA system, where the dogs are used to locate live victims if a disaster strikes in the U.S. I highly recommend Ken and the Wolf River Kennels, and I consider them part of my family too!
Submitted by: Ralph Colorado on Jun 20, 2007
I have known Ken for over twenty years. He is a man of honor and raises some damn fine dogs. Kennels are clean and always well kept. If you are looking for a great dog at a fair price, start with Wolf River. Feel free to email me.
Submitted by: dm8691@yahoo.com on Jun 18, 2007
We have a dog that was aquired through Wolf River Kennels and I can honestly say that I would recommend them to everyone I talk to. Our dog is absolutely fantastic. She is quick to learn, behaves fabulously and is the birdiest dog I have ever seen.
Also, you can't ask for nicer people to deal with. Our dog is almost two years old and Ken still calls and emails us. We not only acquired a dog from them, but a new friendship to boot.
Submit your testimonial