Moore's Little Britts - Tennessee American Brittany Breeders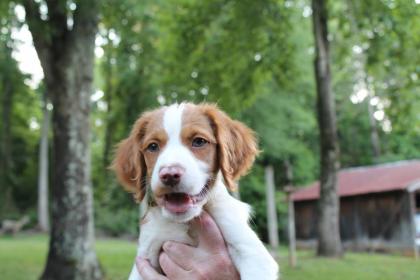 About Moore's Little Britts
We have the pick of the litter from our stud dog. It will be available next weekend, the price is $500. Please call Michelle or Brad if interested (423)779-6738.
Hunting Dog Breeds Raised
American Brittany
Additional Services
Stud Services
Breeder Contact Info
Our Pedigrees
Testimonials (5)
Submitted by: terry bailey on Aug 31, 2013
My Brittany buck that I bought from the Moore's has been the greatest dog I have ever had. Buck has been good for hunting and the family. We love him to death and I would recommend the Moore pups to anyone. You will love them.
Submitted by: Orlando Merced on Aug 27, 2013
WOW What a christmas it was. My 8 year old boy only wanted as he called him"The best Bird Dog" We looked everywere. Finally I called Moore's Little Britts. I spoke to a very proffessional and kind lady by the name of Michelle. We were so happy because we finally found the breed we were looking for. So guess what, we drove from Florida to beautiful Tennessee to get our Brittnay. He has been a joy and he is very smart and well behaved. He is at a very young age already retrieving birds for me. Oh and about the Moore's I can't thank them enough. Everything was ready when we got there, papers, food, instructions, clean. Boy is our Brittnay gourgeous and you can tell he is from a great line of hunters because he just seems like a natural. Double thumbs up for Moores little Britts
Submitted by: Redding Gober on Aug 26, 2013
We got a male brittany (Todd) from Moore's Little Britts just over 7 months ago. I could not have asked for a better dog. He has great coloration and has grown to have excellent muscle tone - truly a gorgeous dog. He has proven to be a very quick learner and points like a true hunter! This in itself is evidence that he has a very strong lineage. The Moore family is a wonderful starting home for these puppies to come from and this is very evident in the quality of the dog that we ended up with. Thank you!
Submitted by: Julie Wallisch on Dec 04, 2012
These are great dogs, very loving, loyal and friendly. Also a wonderful hunting dog Daisy now almost 1 year old started pointing very young. Highly recommend!
Submitted by: Barry on Sep 21, 2012
We got a female britt from Brad and she is the best dog I have ever had. They have a very clean area they keep the puppies in, and there is plenty of room for them to run as a puppy. Our brittany is very smart, well trained, and just an all around wonderful puppy. She is now 7 months old and loves being outside. She started pointing at around 3 months.
Submit your testimonial