Horse Creek Chesapeakes - Tennessee Chesapeake Bay Retriever Breeders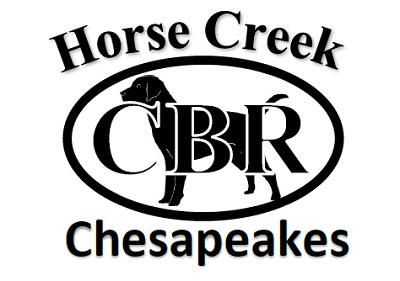 About Horse Creek Chesapeakes
I have been a proud owner of Chesapeake Bay Retrievers for my entire life. I have a strong love and passion for the breed and decided to share it with others. The health of our puppies is the primary concern. All of our breeding dogs come from strong blood lines and have hip, elbow, and eye certifications. We also perform DNA tests for DM, EIC and PRA to ensure the health of our puppies. We offer a full two year health guarantee on all of our puppies, as well as a life time of support and assistance if needed.
I am currently breeding two wonderful dogs, Dixie and Teddy. Dixie weighs 78 pounds and Teddy weighs 87 pounds. They are both excellent specimens of the breed with beautiful coats and a very sweet temperaments. They are very well rounded dogs sure to produce puppies for a hunting companion, family pet and/or guardian.
The litter is going to be great. Here is the information and photos on Sire and Dam
Sire: Brimstone My Heart Goes On aka Teddy. Teddy is 24 1/2 inches at the shoulder, weighs 87lb, is Dark Deadgrass in color, and is a sweetheart. His hips and elbows are normal, he is PRA Progressive Retinal Atrophy Clear by parentage, he is DM Degenerative Myelopathy Clear, and is EIC Exercise Induced Collapse Clear. His coat and stature are phenomenal. He only needs 1 point to finish his Show Championship. He is a love bug and just wants to please. I have had 2 previous litters out of Teddy and the puppies are wonderful.

Dam: Donway's Horse Creek Dixie Rose aka Dixie Dixie is 24 inches at the shoulder and weighs 75lb. She is Deadgrass (almost Sedge) in color and is very sweet. Dixie is OFA hips and elbows clear, she is PRA and EIC Clear and she is a DM Carrier.
Dixie is very sweet, her coat is phenomenal and she is correct.
These puppies may be Carriers of DM, but will not be affected. All pups will be DNA tested at 3-4 weeks of age in order to determine each pups DM status.

This litter is due on June 17th

Call or email me with any questions you may have regarding the upcoming litter. I can email pictures and pedigrees of both parents.