Gundog Development - Tennessee English Setter Breeders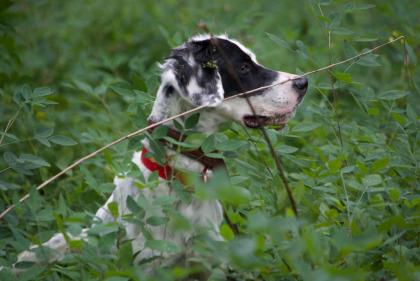 About Gundog Development
Gundog Development is located just outside of Spring City, Tennessee on the eastern edge of the Cumberland Plateau.  Approximately an hour and a half from Chattanooga and Knoxville, the operation currently serves clients from across the southeast and as far away as Alaska.

Situated on 170 acres of both fields and woods surrounded by several thousand acres of managed timber and forest land, Gundog Development hosts a variety of cover to handle all bird hunting and training situations. This environment allows us to maximize a dog's potential using our training methods, equipment and, most importantly, extensive bird contacts.

Clients and visitors are welcome at any time.  Appointments are not necessary but are recommended.  Please contact the kennel for more information and directions to the facility.  Please call 423-290-5631 or visit www.gundogdevelopment.com for more information on trainings services, puppies, started and finished gundogs.
Hunting Dog Breeds Raised
English Setter
Additional Services
Hunting, Training, Stud Services, Boarding
Breeder Contact Info
Our Pedigrees
Testimonials (3)
Submitted by: Kevin Ortmeyer on Jan 14, 2022
This is the second hunting season with my English Setter Lance from Hunter Payne and Gundog Development. Lance was a very good hunter from the start and he as only improved into year two. Lance is a bird finding machine and puts my friends dogs to shame. He is rock solid on point, easy to control and covers an enormous amount of ground while hunting. He easily adjusts from big running while quail hunting to working close on late season pheasants. This year he has accompanied me pheasant hunting in South Dakota, quail in Missouri, quail, prairie chickens and pheasants in Kansas and pheasant and quail in Iowa. Lance is well behaved in the house and when traveling in the car and in the air. I could not be more pleased with this dog and I am proud that I have the best dog among my hunting buddies.
Submitted by: Amy Massmann on Jun 10, 2015
I received my English Setter when she was 18 months from Gundog Development.
I told my husband I wanted a dog that was beautiful and with good conformation and mostly smart and loving. He surprised me with Lil and I could not believe I received all my wishes.
I know it takes a very good dog breeder to get all of these. I could not be happier with my Lil she is the best and as I tell my husband I am going to show his little short tail dog up at trials.
Hunter Payne of Gundog Development is a professional trainer and understands dogs better than anyone I have ever met. His breedings are top notch. I recommend Gundog Development to all my friends.
Submitted by: Brad Montgomery on Aug 12, 2011
I got my dog as a pup from Hunter a little over a year ago.(Luminarys Annabelle) I attended his training seminar held at the Etowah Valley game preserve and learned more in three days than you could ever imagine. Gundog Development taught me how to train a blue ribbon dog. Now I have the best hunting dog I could wish for. I recommend every bird hunter to take a dog training seminar from these professionals. They truly are the best.
Submit your testimonial